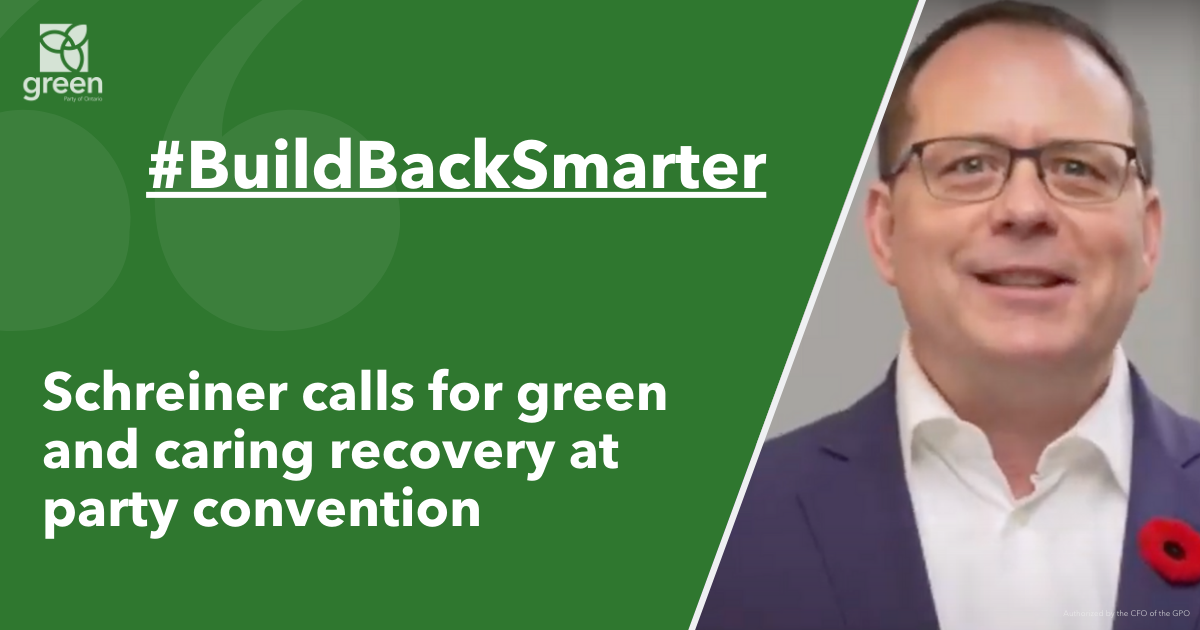 TORONTO, ON — At the Green Party of Ontario's first virtual election, Mike Schreiner delivered an impassioned plea to Build Back Smarter from COVID-19.
Schreiner asked Ontarians to harness the resilience that has seen the province through the pandemic thus far to build a greener and more caring Ontario.
"The path we were on was not doing justice to workers, elders or the planet."
Schreiner blasted Doug Ford for using the pandemic as a cover while selling off prime farmland and wetlands to deep-pocketed supporters.
"His solution to get the economy moving is to rip up protections for our air, our water, our land and our climate, which he calls red tape," said Schreiner.
The Green leader urged the Premier to adopt bold ideas in the COVID recovery like a universal school lunch program sourced from Ontario farms and a job-creating, Made-in-Ontario supply chain for electric vehicles.
"The only thing holding us back from leaping into the green economy is political will," said Schreiner.
The Green leader pledged to hold Ford accountable on his promise to fix long-term care by hiring more staff and guaranteeing more hours of direct care.
"How we treat elders in their final years should be a source of pride – not shame," said Schreiner.
He pointed to safe and decent housing as being the most important lesson from the pandemic and pledged to be a champion for affordable, community-focused neighbourhoods.
"It's very difficult to stay home during a pandemic when you have no place to call home."
Schreiner reflected on his many accomplishments since being elected, including legislation to ban sick notes and help EV drivers, as well as his advocacy for small businesses, community gardens and mental health during the pandemic.
"I am proud to say that the Ontario Greens have made their mark, even during these unprecedented times when all eyes are on those in power," said Schreiner.
Watch Mike Schreiner's speech