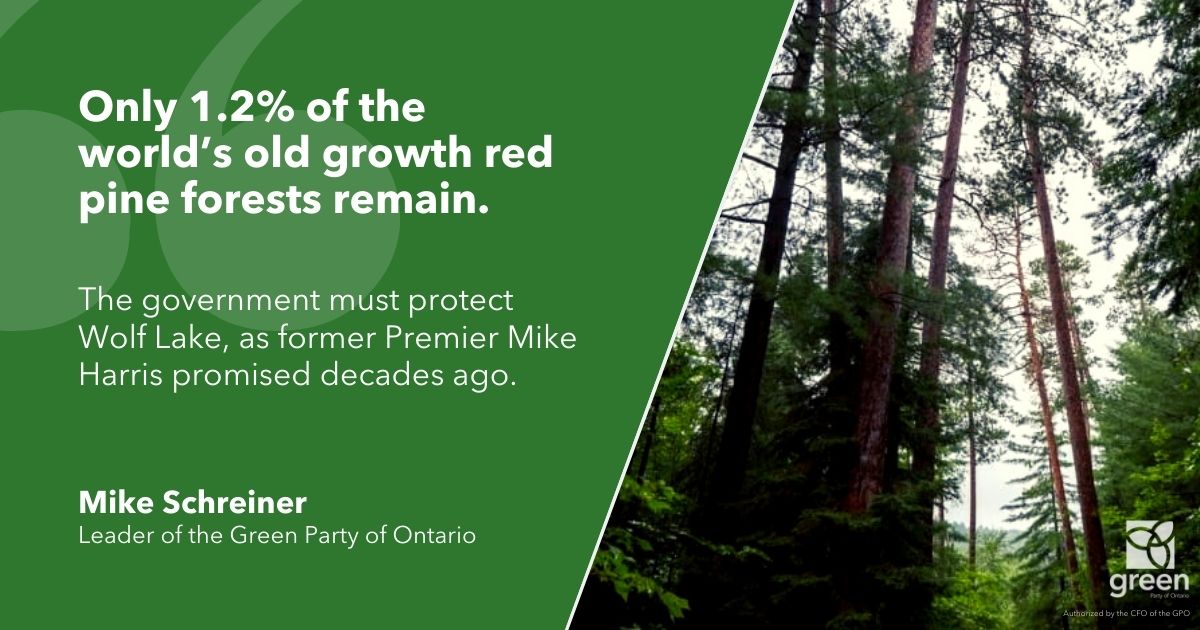 Toronto, ON — Green Party of Ontario Leader and MPP Mike Schreiner released the following statement about the Proposed Mineral exploration permit by mining company Flag Resources Limited that would cause heavy and unnecessary damage to one of our most treasured natural habitats:
"Once again we must come to the defense of Wolf Lake, the largest old growth red pine forest in the world and a popular ecotourism destination.
Permanent protection of Wolf Lake was supposed to kick in as old mining leases expired. Instead, the previous Liberal government extended leases for another two decades.
Now, Flag Resources wants to carve new paths into the heart of this provincial treasure.
The damage would be considerable. Erosion, habitat degradation, damage to creek beds and destruction of trees.
I urge the Ford government to reject Flag Resources' proposed Mining Exploration Permit.
The government must protect Wolf Lake, as former Premier Mike Harris promised decades ago.
Mining makes a valuable contribution, but this unique ecosystem is irreplaceable. Only 1.2 percent of the world's old growth red pine forests remain. We should celebrate that Ontario has the largest, not destroy it.
The Ford government has been running roughshod over environmental and habitat protection for the past two years. This has to stop. Rejecting the proposed exploration permit in Wolf Lake is a good place to begin."
Sign our petition