For more information, please contact
John Chenery
Secret regulatory change means another free pass for polluters
May 19, 2020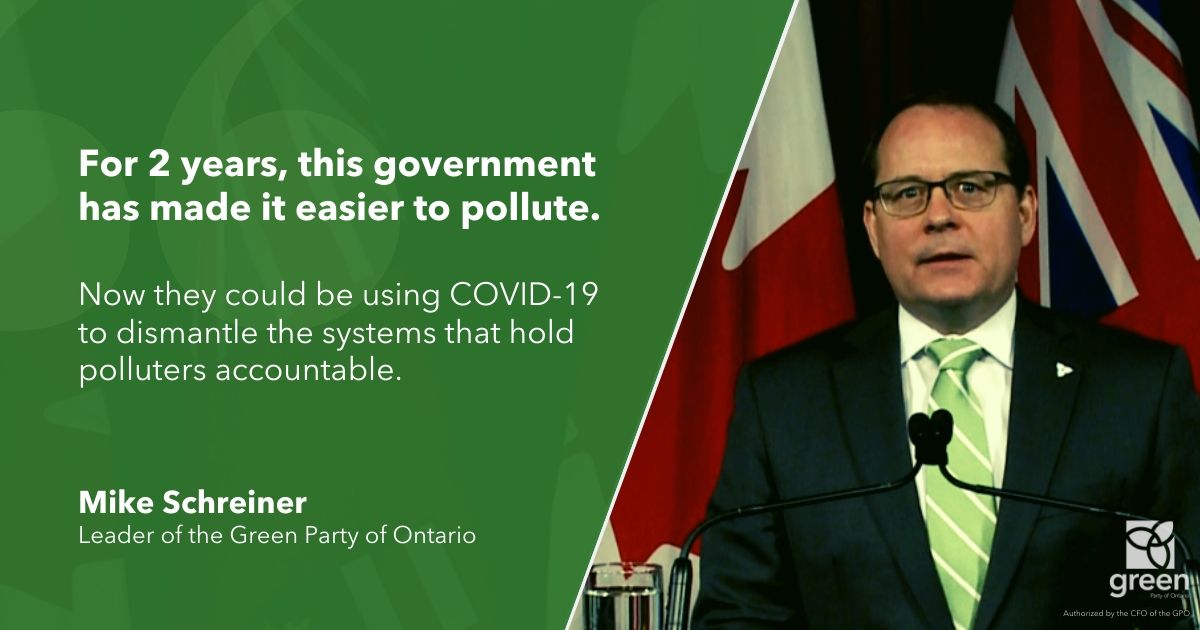 QUEEN'S PARK — The Ford government passed a regulation last week to weaken Ontario's action on climate change by opening the door to reporting exemptions for large polluters.
The quick and secretive move comes after the province cancelled the 30-day public consultation period under the Environmental Bill of Rights, citing the COVID-19 pandemic.
"This is exactly why I sounded the alarm when the Environment Minister removed public oversight of environmental decisions last month. He must explain to us why the COVID-19 pandemic should stop Ontario from tracking pollution," said Mike Schreiner.
Ontario Regulation 218/20 could release polluters from their legal exemption to track and report carbon emissions, which would be another blow to Ford's Made-to-Fail climate plan.
Last year the Auditor General blew the whistle on the magic math and empty promises in the PC plan.
"For two years, this government has made it easier to pollute. Now they could be using the COVID-19 pandemic to dismantle the systems that hold polluters accountable," said Schreiner.
The decision to weaken pollution reporting comes just days after Ontario courts found the province acted unlawfully in cancelling a major wind energy project, and after OPG spent $2.8 billion to acquire three natural gas plants.
"This government has used every opportunity to drag Ontario backwards on climate change and cover up its tracks. The recovery from COVID-19 should make our economy cleaner, not more polluted," said Schreiner.
-30-