For more information, please contact
Cecilia Stuart
Green Party names candidates for Ottawa-Vanier and Orléans byelections
January 24, 2020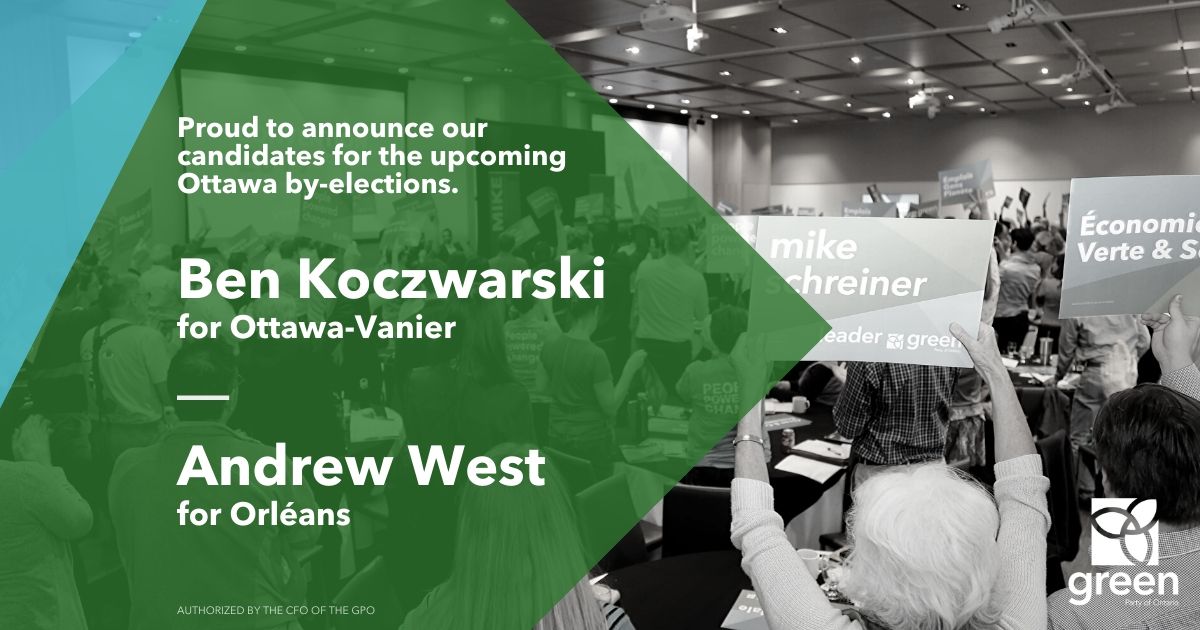 The party announced its candidates for Ottawa-Vanier and Orléans at a campaign launch in Ottawa last night.
Benjamin Koczwarski, an engineer and expert in sustainable urban development was approved as the candidate for Ottawa-Vanier.
Andrew West, an Ottawa-based lawyer and the party's critic for the Attorney General, was approved as the candidate for Orléans.
Both candidates are proud residents of Ottawa with extensive experience in green issues.
Koczwarski is an advisor for a major infrastructure fund that finances sustainable municipal projects and holds degrees in city planning and engineering.
In addition to practicing law, Andrew has worked in the television production industry as well as Amnesty International.
By sending Greens to Queen's Park, Ottawa voters can build on the great work being done by Mike Schreiner. The Guelph MPP made history last month by passing the province's first ever Green legislation and he has been the main critic of the Premier's rollback of climate action.
—
Mike Schreiner, Leader of the Green Party of Ontario
"Doug Ford has dismantled countless environmental protections over the last two years. By voting Green, people can choose our positive vision for a clean and caring economy, while rejecting the Premier's anti-climate agenda."
Benjamin Koczwarski, GPO Candidate, Ottawa-Vanier
"The best time to transition to a green economy was twenty years ago. The second best time is now. By sending a Green representative to Queen's Park, Ottawa-Vanier can show that it stands for our environmental future. I am honoured to be their voice and to fight for true, sustainable prosperity that benefits generations of Ontarians."
More info: www.BKForOttawa.ca
Andrew West, GPO Candidate, Orléans
"If everyone who ever thought about voting Green DID vote Green, we would win!"
More info: www.andrewwest.ca
-30-