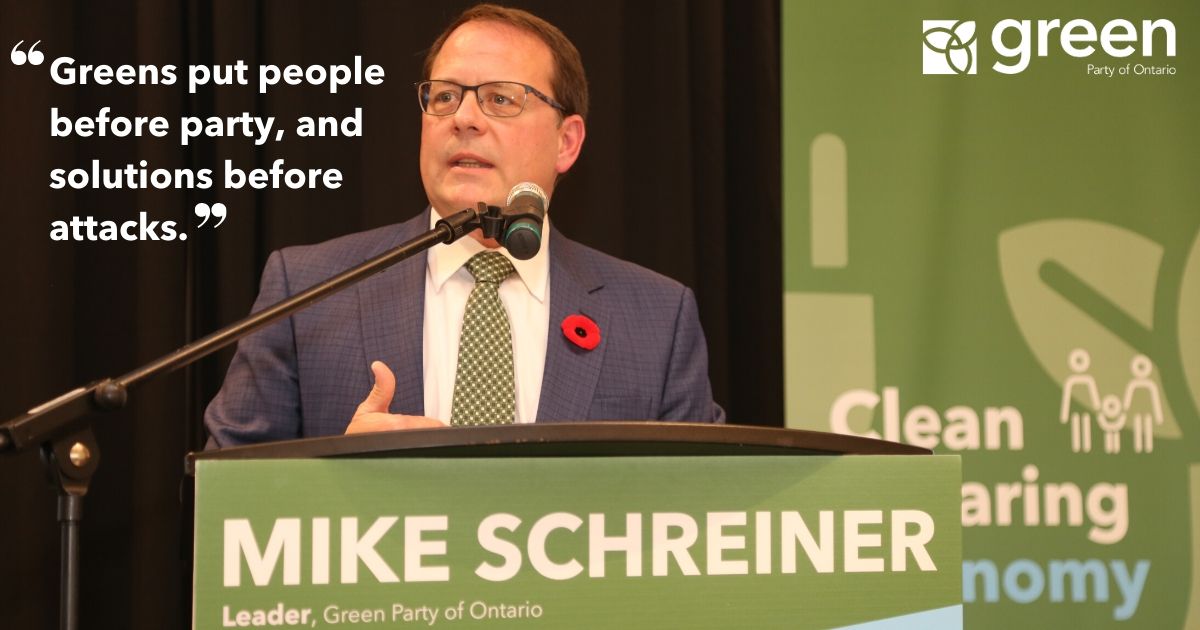 "The Premier can hand out as many stickers as he wants, but Ontarians are problem solvers, not problem deniers. This transformation is not the reluctant chore of climate change, it is a golden opportunity to build a bridge to the future," said Schreiner. 
Schreiner noted the $355 billion being invested annually in clean energy and promised to be a leader for jobs in building retrofits, EVs and advanced manufacturing, transit and agriculture, as well as the low-carbon caring professions in health care, education and social services. 
He also reflected on the party's major growth in the last two years, including a membership that has jumped to 5,000 people and raising $1 million for the first time in 2018. 
"We've punched above our weight, proving that Greens belong at Queen's Park," said Schreiner, highlighting his accomplishments at the legislature, including getting all-party support for his private member's bill and putting forward solutions to Ford's corruption scandal.
"Greens are about positive ideas and cooperation, first and foremost. We are about putting people before party, solutions before attacks," said Schreiner, speaking about his willingness to support legislation from other parties and his effort to unite opposition MPPs against Bill 108. 
Schreiner renewed his call for a Basic Income Guarantee in the wake of a report showing that poverty costs Ontario $33 billion per year. 
"I will continue to push for a BIG because a modern social safety net is essential in our changing world where precarious employment and inequality is on the rise," said Schreiner. 
He finished his speech by announcing his plans to develop a comprehensive plan to tackle the shortage of affordable, attainable housing across Ontario. 
"The Green Party is committed to finding housing solutions that protect the places we love and that put people before deep-pocketed developers and speculators," said Schreiner  
See full speech here.