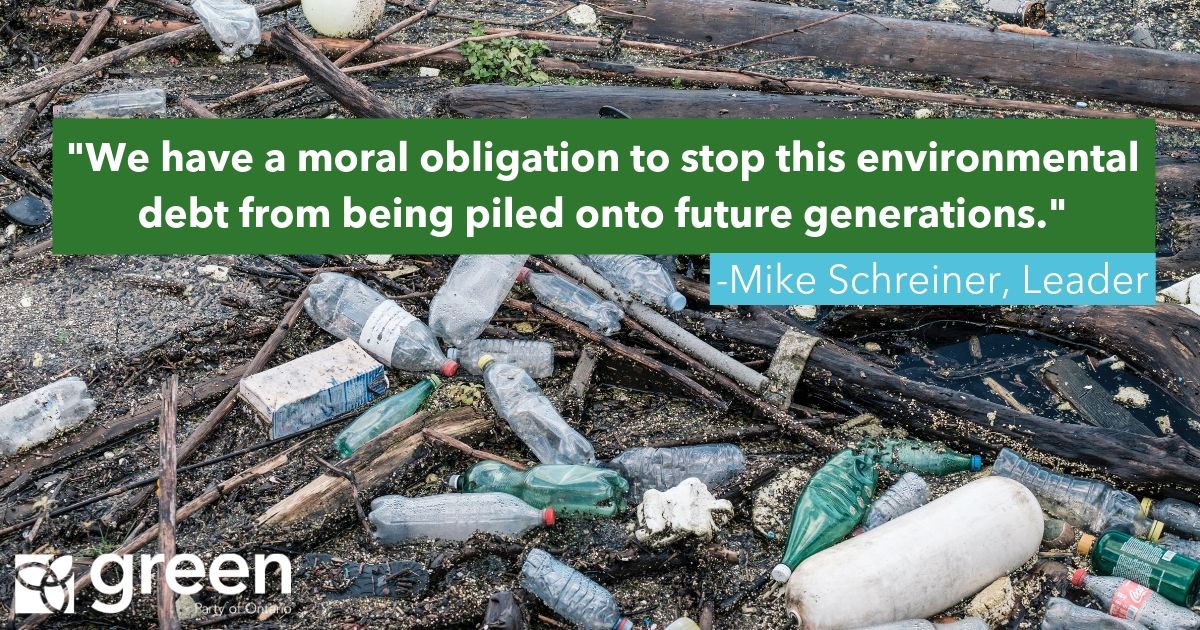 "Our rivers and lakes are swimming in plastic, while our landfills are filling with waste that won't degrade for thousands of years. We have a moral obligation to stop this environmental debt from being piled onto future generations," said Green Party of Ontario Leader, Mike Schreiner.
Canadians discard 34 million plastic bags every day, and at current rates, there could be more plastic than fish in the oceans by 2050.
The Green Party of Ontario would implement a ban on single-use plastics by 2025, beginning with a phase-out of the worst offenders in 2020, including bags, disposable coffee cups and take-out containers.
"It is totally unacceptable that in Canada we recycle just 9% of the plastics we use. Our goal should be to prevent this waste from being created in the first place by using all the tools in our toolbox, including a ban on single-use plastics," said Schreiner.
Municipalities spend close to $200 million per year on a blue box program that isn't working. By reducing the amount of waste being created in the first place, we can save millions in recycling and waste management costs currently borne by taxpayers.
Safer alternatives to plastic are also a major job creator.
"Solutions to the plastic pollution crisis are opportunities to benefit from the $26 trillion global clean economy. I want Ontario to be creating jobs in advanced manufacturing, bio-innovation and other growing job sectors that will drive our future prosperity," said Schreiner.
The Green Party is encouraging the Ford government, which last week announced plans to improve Ontario's recycling rates, to take decisive action on single use plastics.
"Even the best recycling programs in the world have been unable to divert them. That's why more and more jurisdictions are turning to bans on single-use plastics. Ontario should follow their lead, using every tool in the toolbox to stop the worst waste products from polluting our local environment," said Schreiner.