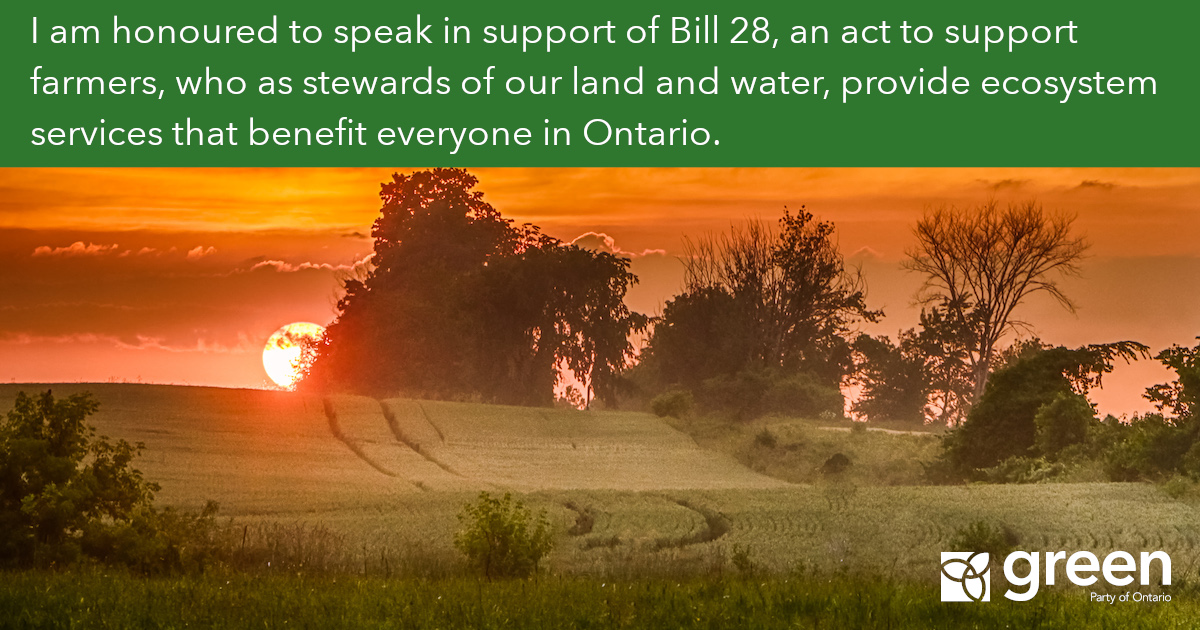 "Farmers play a critically important role not only in growing food, but also in protecting our water, improving our health, protecting wildlife habitat and species and helping us combat and adapt to climate change. They do all this without a lot of recognition or compensation.
But I believe deeply that farmers deserve to be supported and compensated for these environmental goods and services and that is why I am honoured to speak in support of Bill 28, an act to support farmers, who as stewards of our land and water, use their land to provide ecosystem services that benefit everyone in Ontario.
Research shows that the Greenbelt alone provides $85 billion worth of ecosystem services for the people of Ontario. Imagine the ecosystem benefits farmers could provide if we gave them more support. This would benefit our economy, our environment and our communities.
I want to thank the member from Haldimand-Norfolk for bringing this bill forward and recognizing the important role that farmers play in delivering environmental goods and services for the people of Ontario.
This bill provides the foundation for a voluntary farmer led framework built on the award-winning Alternative Land Use Services program. It is a program started by farmers in partnership with conservationists. It is a program designed by farmers and led by farmers. But it is a program that benefits all Ontarians."