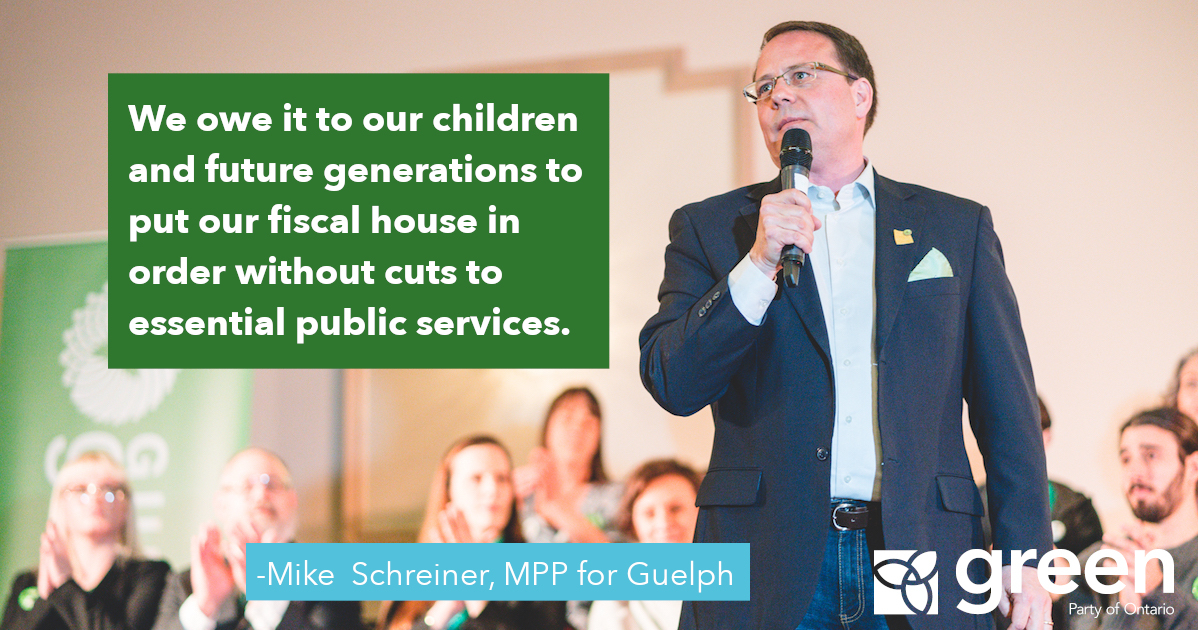 "I'm ready to have an honest conversation with the government about restoring balance to Ontario's finances. We owe it to our children and future generations to put our fiscal house in order without cuts to essential public services.
The Green Party of Ontario was the only party in the last election to present a costed fiscal plan using the Auditor General's numbers. Our plan shows how the government can save money and raise revenue in fair and balanced way.
Although the report paints a bleak picture of Ontario's financial situation, it should not be used to bring in sweeping austerity measures. Finding efficiencies on the backs of our most vulnerable citizens is wrong. And it will only lead to more costs down the road.
It is not unusual for a new government to claim they've found hidden deficits from previous governments. I urge the government to not use this as an excuse for deep cuts to Ontario schools and hospitals, social assistance and housing, transit and transportation. Ontario cannot cuts its way to prosperity.
We agree with the government's decision to accept the Auditor General's view that the accounting practices in the (un)Fair Hydro Plan were deceptive. The scheme is one of the most costly band-aids in Ontario's history. The PCs should take the next step and scrap the (un)Fair Hydro Plan altogether. The FAO estimates the final price tag could be as high as $93 billion and this is simply not sustainable if we are committed to a financially responsible future.
We cannot slash and burn our way out of this financial mess. That is why I am urging the government to look at revenue generation tools proposed by the GPO, including getting a fairer return on our natural wealth, raising the tax rate on big corporations by 1%, and implementing parking levies and road pricing."