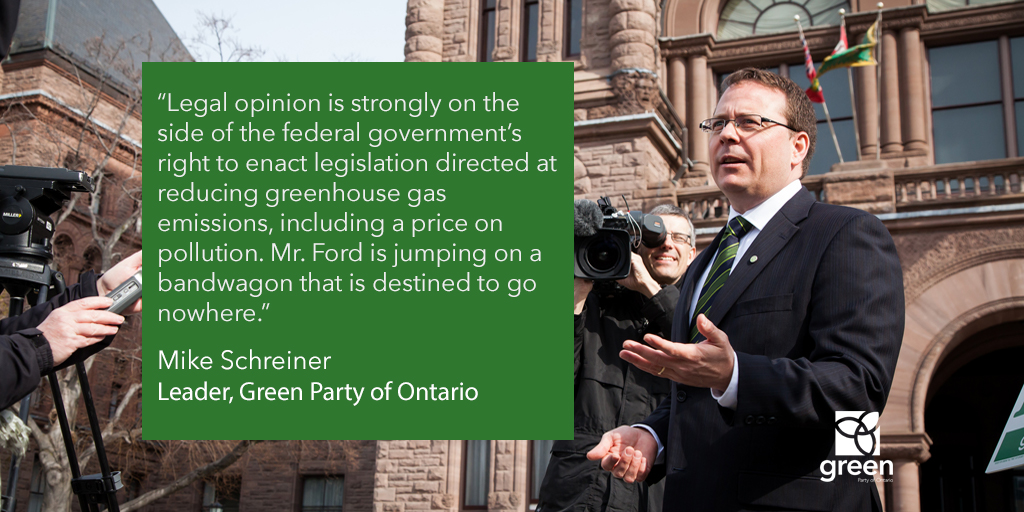 "It is a waste of people's money to pursue a politically motivated lawsuit that most legal analysis says Ontario will lose. Rather than coming up with a made-in-Ontario plan that puts a price on pollution, Premier Ford prefers to fight a losing battle," said Mike Schreiner, Green Party of Ontario leader and Guelph MPP.
"The Premier is taking us down a path that is ill-informed and reckless for our economy and our environment," added Schreiner.
The vast majority of legal scholars who have weighed in on Saskatchewan's Court of Appeal case have argued that it is destined to fail, including experts from the University of Ottawa, University of Manitoba, and University of Alberta.
"Legal opinion is strongly on the side of the federal government's right to enact legislation directed at reducing greenhouse gas emissions, including a price on pollution. Mr. Ford is jumping on a bandwagon that is destined to go nowhere." said Schreiner.
81% of economists agree that pollution pricing is the most market-friendly way to reduce emissions and an essential piece of any action on climate change. Premier Ford has an opportunity to adopt a carbon fee-and-dividend system that would put money directly in people's pockets.
"I have continued to ask the government for their plan and they continue to avoid giving a clear answer. They are showing no sign of taking the real steps needed to reduce emissions and embrace the $7 trillion global clean economy," said Schreiner.