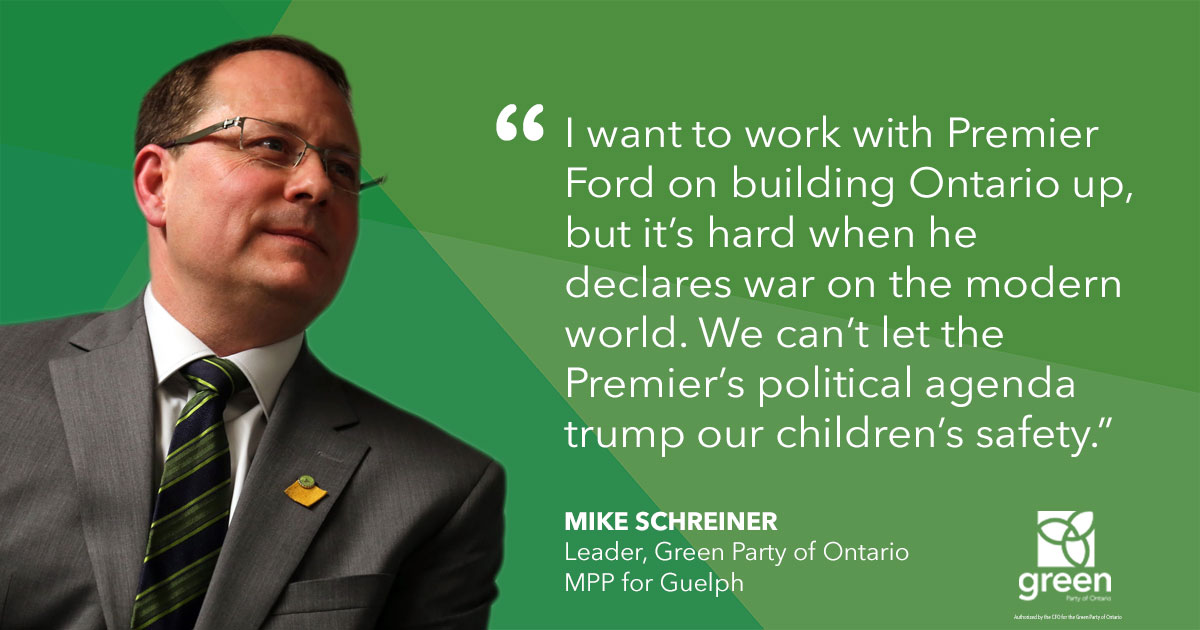 Queen's Park – Doug Ford and his PC caucus campaigned on saving money. But their first Throne Speech outlines a political agenda that will cost citizens big time.
"This plan announces that Ontario is closed for business for those companies wanting to create jobs in the clean economy – missing out on a $7 trillion dollar global economic market," said GPO leader and Guelph MPP Mike Schreiner.
The PC decision to pull Ontario out of cap-and-trade with no alternative plan has created uncertainty for businesses and risk for the people of Ontario, who could be on the hook for paying back the $2.8 billion in now worthless permits purchased by Ontario companies. It could cost even more in legal challenges.
"The PC plan will kill jobs and hurt clean economy businesses. It also takes money out of the pockets of people trying to save money by saving energy," added Schreiner.
This is a plan that moves Ontario backwards. For example, it will cost $1.1 billion per year to keep the outdated overpriced Pickering nuclear station open past its best before date.
"I want to work with Premier Ford on building Ontario up, but is hard when he declares war on the modern world," said Schreiner. "This applies to their non-existent plans to deal with the climate crisis, and the Premier's plan to risk our children's safety by going back to the 1998 sex education curriculum. We can't let the Premier's political agenda trump our children's safety."
The Green Party supports providing our children with the information and tools they need to be safe in the modern world. Cyber-bullying, sexting, consent, LGBTQ+ rights – these are all important parts of the updated curriculum that are critical to the health and well being of our children.
Schreiner and the Green Party will work to push the government to fulfill its commitment to increase support for mental health and addiction services, autism and long-term care beds, and will make every effort to work across party lines to improve important public services.