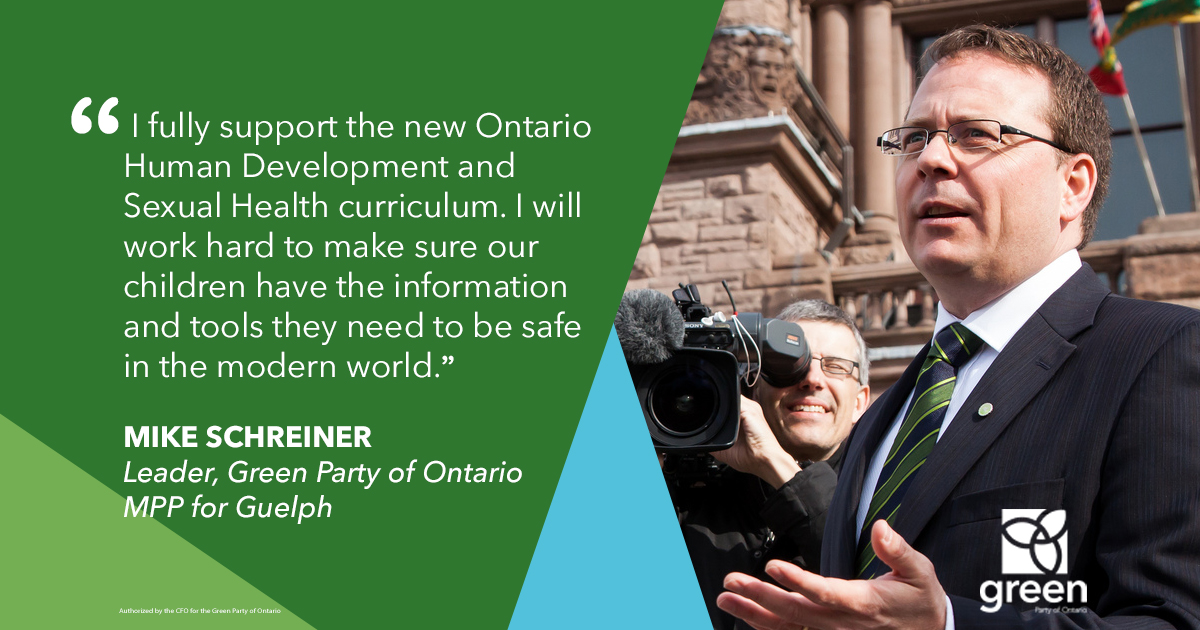 Mike Schreiner, GPO leader and MPP for Guelph, made the following statement in response to the government's announcement to replace the modern Ontario Human Development and Sexual Health curriculum with the 1998 curriculum:
"Premier Ford seems to be declaring war on the modern world.
The PC decision to revert to the 1998 sex ed curriculum is a mistake that puts our children at risk. The old curriculum was developed before social media, text messages and smartphones. It is silent on consent, gender diversity and navigating the online world.
Learning about consent, especially within the context of social media and the online world, is more important than ever before. Our kids won't be safe if they aren't informed about the realities of the world we live in.
One of the criticisms the PCs are levelling at the current curriculum is that it was developed without adequate consultation. New consultations are promised 'swiftly', which begs the question of how adequate new consultations will be.
Literally thousands of Ontarians were consulted. It would appear that the Ford faithful were just unhappy with the results. Every child deserves to be protected in a world where sexting and cyberbullying are a reality.
Any parent can choose to have their child excused from the teachings of the up to date curriculum if they desire. But the government should not deny parents and students the choice of learning the new curriculum.
I fully support the new Ontario Human Development and Sexual Health curriculum. I will work hard to make sure our children have the information and tools they need to be safe in the modern world."