Ford fails to lower Ontario's electricity costs by $1.1 billion per year
News
June 21, 2018
Share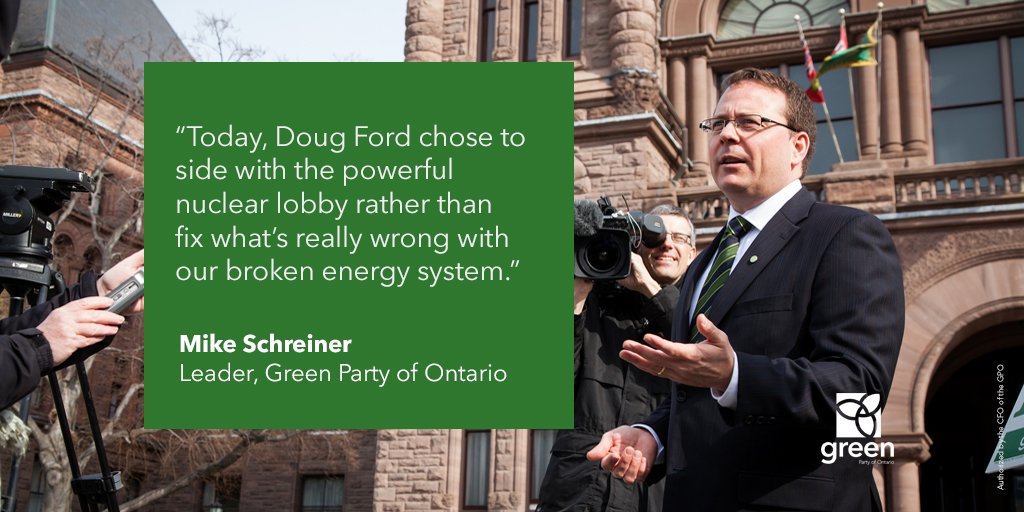 QUEEN'S PARK —  Premier-designate Doug Ford's plan to keep the Pickering Nuclear Station open until 2024 may be good for the nuclear lobby, but isn't good for the people of Ontario.
"Today, Doug Ford chose to side with the powerful nuclear lobby rather than fix what's really wrong with our broken energy system," said Green Party of Ontario Leader Mike Schreiner.
"The decision to keep Pickering open past its best before date will cause electricity bills to go up. It is fiscally irresponsible when lower cost alternatives are available."
It is a mistake for the new government to double down on the Liberal government's past energy missteps that have caused electricity bills to rise. According to an article from TVO citing the Independent Electricity System Operator of Ontario, 42% of the price increase in the global adjustment (GA) is due to nuclear contracts, 26% from natural gas and just 17% from renewable energy contracts.
Why is Mr. Ford supporting the source of power most responsible for rising electricity prices?
"Mr. Ford clearly doesn't want to help people lower their electricity bills with his decision to support overpriced outdated nuclear power and his plan to cut programs that help people save money by saving energy," added Schreiner.
Quick Facts
Pickering Nuclear Station
is the 4th oldest nuclear station in North America. Opened in 1971, it was originally designed to operate for only 30 years, but now Doug Ford will keep it running for over half a century.


Pickering Nuclear Station is within 50km of the largest population centre in all of Canada. A nuclear accident at Pickering could lead to the evacuation of more than 650,000 people for 30 to 100 years.
Ontario could save $1.1 billion per year by closing PIckering on schedule. This includes saving $737 million per year by avoiding the sell of excess power at a loss and $407 million by purchasing low cost water power from Quebec at 5 cents per kWh.

Shutting down Pickering would create 32,000 person-years of employment and make Ontario a global leader in nuclear decommissioning, expertise we can export elsewhere.