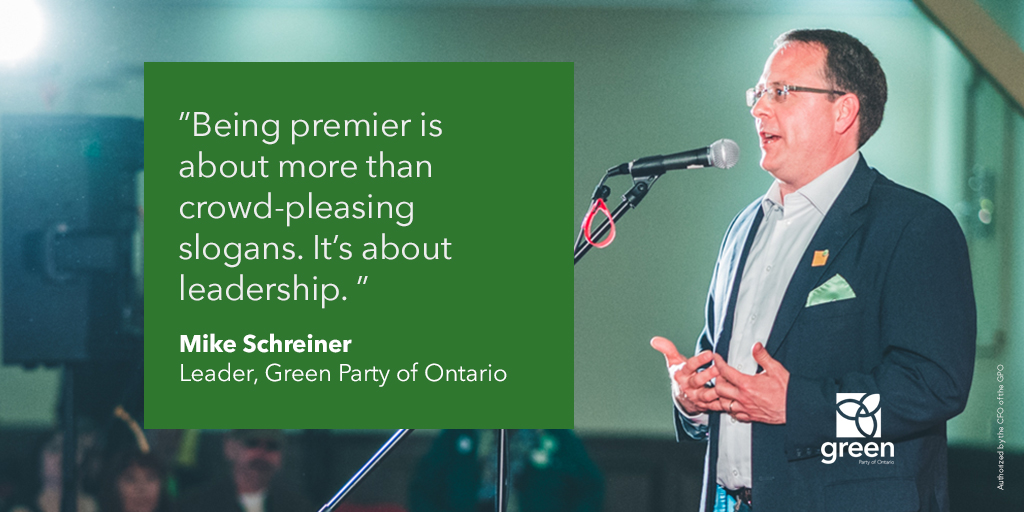 QUEEN'S PARK —  The people of Ontario deserve to hear from Doug Ford the Premier-designate, not Doug Ford the campaigner.
"Being premier is about more than crowd-pleasing slogans. It's about leadership. What is Doug Ford's vision for the province? What is he going to do besides cut and gut everything the last government did?" asked Green Party of Ontario Leader, Mike Schreiner.
In his brief speech to caucus, Ford repeated the same clichés from the election, before kicking the media out after only five minutes.
There was no mention of the public sector hiring freeze and how it will impact hospitals and classrooms. There is no plan to fight climate change after Ford hastily announced the end of the only program we have for reducing greenhouse gas pollution.
"Mr. Ford is thumbing his nose at clean economy jobs and investment by taking us backwards on climate change. This political decision will cost us clean air and good jobs and drag us into lengthy court battles paid for by Ontarians. It's reckless and irresponsible, without a credible Plan B," said Schreiner.
"He cannot govern just by cancelling what the last government did. The campaign is over, and we are still waiting for Mr. Ford to turn his populist promises into real policy," he added.