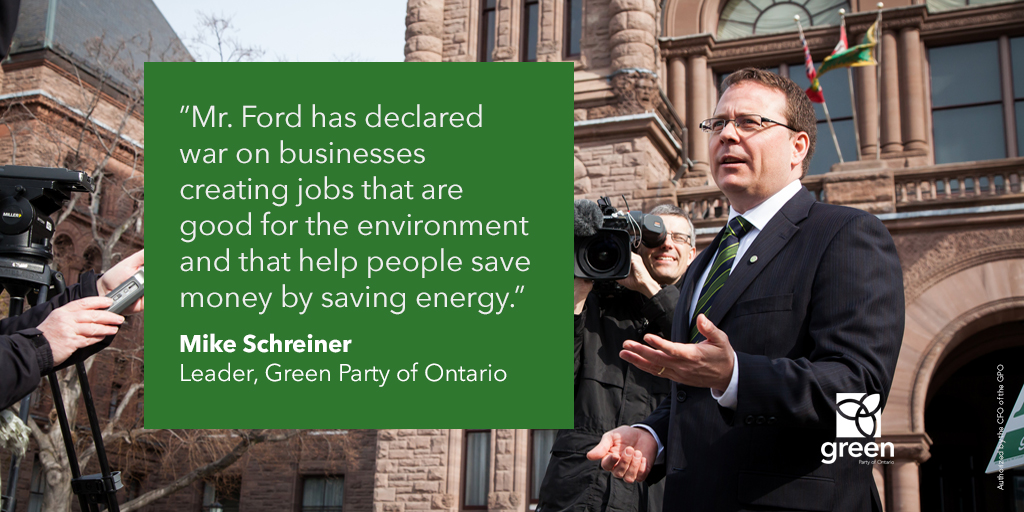 QUEEN'S PARK —  Premier-designate Doug Ford is making it harder for people to save money on their energy bills. He is hurting businesses that have made significant capital investments to provide energy saving services for people.
Eliminating Ontario's energy efficiency programs without warning or detail will hurt families and businesses who want to save energy and fight climate change.
"Mr. Ford's actions will hurt families and businesses working hard to save money by saving energy," said Green Party Leader, Mike Schreiner.
"I've already received emails and calls from business owners angry that Ford's reckless actions will force them to fire staff and lose money."
The GreenON website (https://greenon.ca/) has been replaced with a simple message listing all of the programs that have been cancelled. A call placed to GreenON confirmed that all of the rebate, installation and retrofit programs for homes and businesses have been discontinued.
"Mr. Ford has declared war on businesses creating jobs that are good for the environment and that help people save money by saving energy. Unfortunately, Mr. Ford is sending a message to companies and job creators that Ontario is closed to the $6 trillion clean economy," said Schreiner.
The Premier-designate announced that his first act of cabinet would be to scrap pollution pricing, but he has made no mention of shutting down energy efficiency and rebate programs. This move comes before his cabinet has even been announced. This recklessness will result in job losses in the energy conservation and building retrofit sector.
"It's ideological and it's short-sighted. I challenge Mr. Ford to explain how cutting programs that help people lower their energy bills is consistent with his 'for the people' message," Schreiner added.