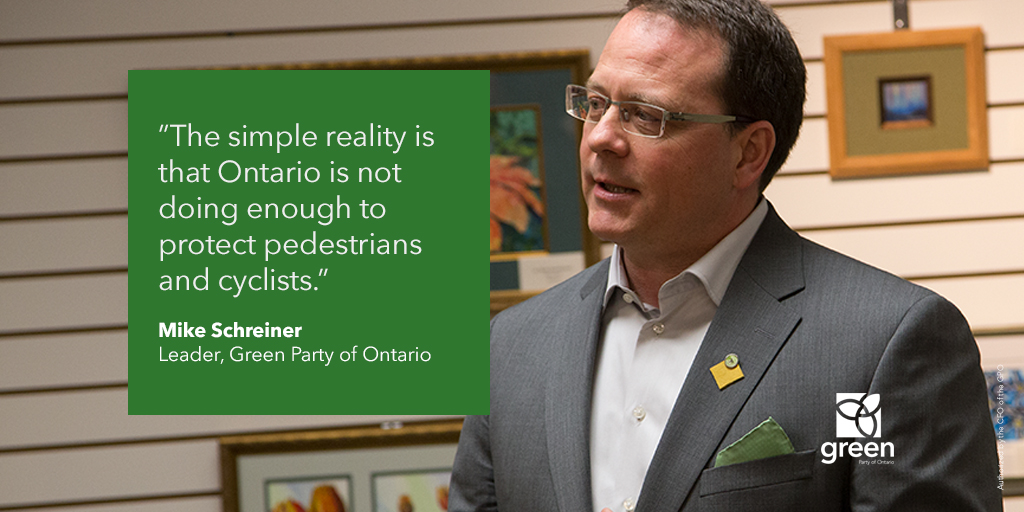 QUEEN'S PARK — In the wake of three tragic deaths this week on GTA streets, the Green Party of Ontario is renewing its call for a real investment from the province into safer streets.
"The simple reality is that Ontario is not doing enough to protect pedestrians and cyclists. The status quo is costing us lives, and the incoming government has a responsibility to help the city of Toronto and all municipalities make their streets safer," said Green Party leader Mike Schreiner.
Toronto, City Council initiated Vision Zero two years ago, and yet deaths on Toronto streets are not declining, with 32 people killed this year. Safety advocates are calling for immediate measures such as lower speed limits, striped crosswalks, and tougher penalties.
Schreiner says the province must do its part to make streets and roads safer for all people.
"The province has an essential role to play in making streets across Ontario safe for all people. It is unacceptable that there is no dedicated transportation fund for walking and cycling infrastructure," added Schreiner.
Currently the province allocates 0% of its transportation budget to cycling and pedestrian infrastructure. The Green Party continues to support a dedicated fund to support safe streets.
"We need to make roads safe, not just for cars but cyclists and pedestrians too. I am calling on the new government to establish a permanent long­-term sustainable funding stream for cycling and pedestrian infrastructure for all Ontario municipalities," said Schreiner.