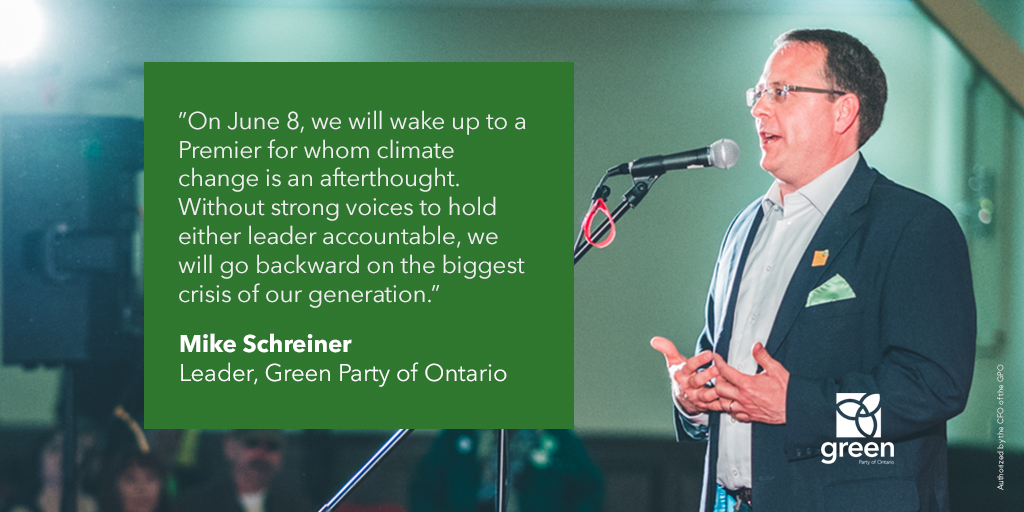 GUELPH, ON — On World Environment Day, we need a green leader now more than ever. One of the few things Doug Ford and Andrea Horwath share in common is a massive blindspot on climate change. It's one of the main reasons why we need Green MPPs at Queen's Park.
"Of the two parties fighting for power, one denies that climate change is even a problem, and the other ignores the crisis facing us. Instead of putting forward solutions, both Horwath and Ford are trying to outduel each other to lower gas prices, which does nothing but raise greenhouse emissions. We need real climate solutions that put people first," said Green Party leader Mike Schreiner.
"On June 8 we will wake up to a Premier for whom climate change is an afterthought. Without strong voices to hold either leader accountable, we will go backward on the biggest crisis of our generation," he added.
Schreiner was praised in yesterday's Toronto Sun editorial by Lorrie Goldstein as a real "asset in the legislature, where straight talk on issues like carbon pricing is desperately needed."
Guelph is Ontario's green capital, renowned for its community energy plan, water conservation and waste reduction efforts. This kind of vision deserves to be reinforced by an MPP with the same values, an MPP who has dedicated his career to protecting Guelph's water and who has a real and honest plan for reducing pollution.
In the Sun piece, Goldstein said the Green plan was "head and shoulders above anything the other leaders are advocating."
But instead of leaping into the future, both the NDP and the PCs are desperately holding onto the old economy.
"Remember it was the NDP who in 2012 wanted to cut the HST from fossil fuels. It was the NDP who in 2014 opposed Wynne's efforts to raise revenue for public transit, which would have reduced pollution from the biggest GHG emitting sector. And their 2018 platform is mum on emissions and renewable energy targets," said Schreiner.
If Ontario wants to move the needle on climate, we need Green MPPs applying pressure in Queen's Park since we know there will be a leadership vacuum at the top.
"I'm asking Guelph voters to think seven generations ahead. We're on the verge of making history. Ontario is watching and Canada will be watching. Electing a Green MPP can send a message that a new way of doing politics is possible," said Schreiner.