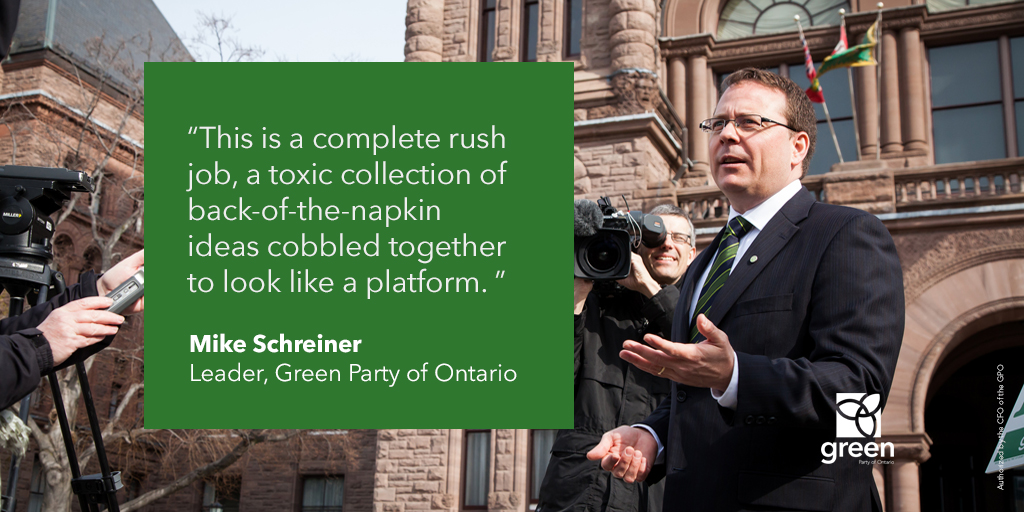 QUEEN'S PARK — Ontarians won't be surprised when they read Doug Ford's regressive platform, which promises to take the province back doing significant damage to our economy, environment and public services.
"This is a complete rush job, a toxic collection of back-of-the-napkin ideas cobbled together to look like a platform. From Bay Street to Hudson's Bay, Ford is abandoning the people of Ontario," said Green Party Leader Mike Schreiner.
"This plan denies that we are facing a climate crisis," added Schreiner. "This platform confirms that Ford intends to ignore the clean economy, costing us jobs and prosperity. It is a direct threat to our air and water."
Ford's plan is reckless, leaving Ontarians to fend for themselves in the face of dramatic increases in fires, storms and floods. His dogged commitment to killing a price on carbon pollution ignores the urgency of climate change, which cost Canada $5 billion in insured losses in 2016.
It's also irresponsible, with no fiscal plan, just numbers attached to programs and cuts.
"It would seem the PC party under Ford is trying to jettison its image of fiscal responsibility judging by the leader's continuous refusal to share a coherent plan with real numbers or answers," said Schreiner.
The PCs are tossing pennies at social crises like mental health and housing, promising a paltry $380 million combined per year on those massive issues. The plan also brings back the racialized guns and gangs police unit and the old sex-ed curriculum that is silent on consent and gender diversity.