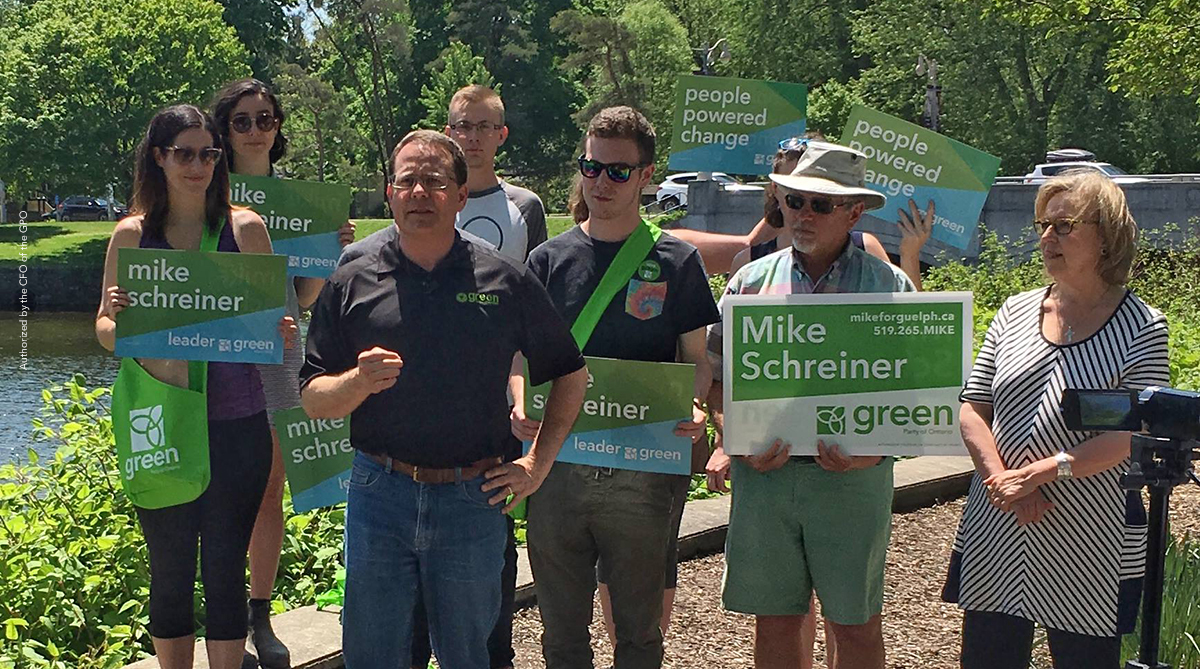 GUELPH, ON — With federal Green leader Elizabeth May by his side, Green Party of Ontario Leader Mike Schreiner announced his plan for a 1.5 million acre expansion of the Greenbelt to include major river systems and source water regions in the Greater Golden Horseshoe.
"When news about Ford's backroom deal broke, the Liberals announced a hurried plan to expand the Greenbelt, but their plan excluded the critical areas being called for by 120 community groups, such as sensitive watersheds in Wellington and Brant counties, as well as the Grand River." said Schreiner, speaking at the confluence of the Speed and Eramosa rivers with May. "We would ensure the whole Bluebelt is protected."
The food and farming sector in the Greater Golden Horseshoe contributes $12.3 billion to our economy and 7,100 of those farms are found in the Greenbelt. The Greenbelt also cleans our air, storing 86.6 million tonnes of carbon in the fight against climate change. And more than 90% of Ontarians polled in 2015 were in favour of growing the Greenbelt to protect water supplies, sensitive natural environments, and farmland.
"Without the right protection, our source water regions are being degraded day-by-day. Greens are the only party that understands our economy depends on clean air, safe drinking water, and food-growing farmland," said Schreiner.
While the governing Liberals have been giving our water away to multinational companies and throwing pennies at water management, the two leading parties have been either negligent or silent on protecting our water.
"For the NDP, the environment is a complete afterthought – buried in a few paragraphs of their 98-page platform. And the last PC government under Harris gutted environment jobs, leading to the deaths in Walkerton during the e-coli crisis. When Doug Ford talks about 'efficiencies', we know it means slashing protections and putting public health at risk," said Schreiner.
The Green Party's plan for getting the basics right on air, water and land includes:
Expanding the Greenbelt to include the 1.5 million acre Bluebelt
Banning fracking to reverse the 2017 Liberal amendment to the Oil, Gas and Salt Resources Act
Investing $200 million to reward farmers to protect water and store carbon
Setting aside a minimum of 17% of land as protected areas in line with international targets
Establishing public drinking water as the top priority in all water taking decisions
Raising water taking fees to recover costs for sustainable water management