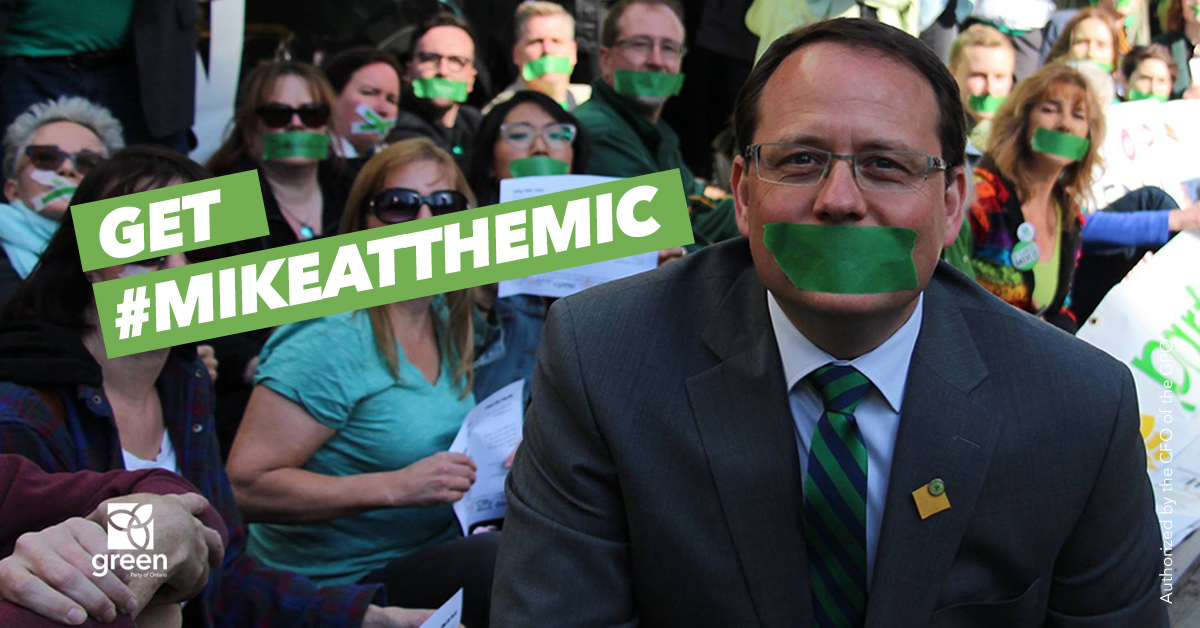 We have less than one week left to change the minds of the unelected, unaccountable media consortium trying to shut Mike Schreiner out of the televised Leaders Debate on May 27.
These debates can change elections. In BC, PEI and New Brunswick, Greens were all elected after appearing in debates. Getting #MikeAtTheMic to debate Wynne, Horwath and Ford will greatly improve our chances of a Green Wave on Election Day.
On Thursday, May 24, we are mobilizing all of our supporters to join a MASSIVE TWITTERSTORM to pressure the Ontario Broadcasters Group to do the right thing and put #MikeAtTheMic.
Join the Twitterstorm
Goal: Get #MikeAtTheMic trending and ensure the media consortium hears us loud and clear!
When: Thursday, May 24 between 12-1pm 
What you need to do: On Thursday, May 24, between 12-1pm, choose from the tweets below or write your own creative tweet using #MikeAtTheMic and tagging the media consortium members. Post the tweet during this time – it's important we get as many people tweeting in this window so we can get #MikeAtTheMic trending on Twitter.
Sample Tweets
If you don't have Twitter, you can still help. Send an email to mackay.taggart@globalnews.ca asking for the Green Party to be included in the televised debates. If you need some inspiration, read Mike Schreiner's open letter here.
Lastly – if you haven't already – sign and share the petition at MikeAtTheMic.ca.
Television managers in back rooms should not get to decide who has legitimacy and who should be held accountable by the voters in Ontario. So we need YOU to help us tell them they got it wrong.
This is our last chance to get #MikeAtTheMic. We hope you'll join us in this effort to get our Green voices heard.