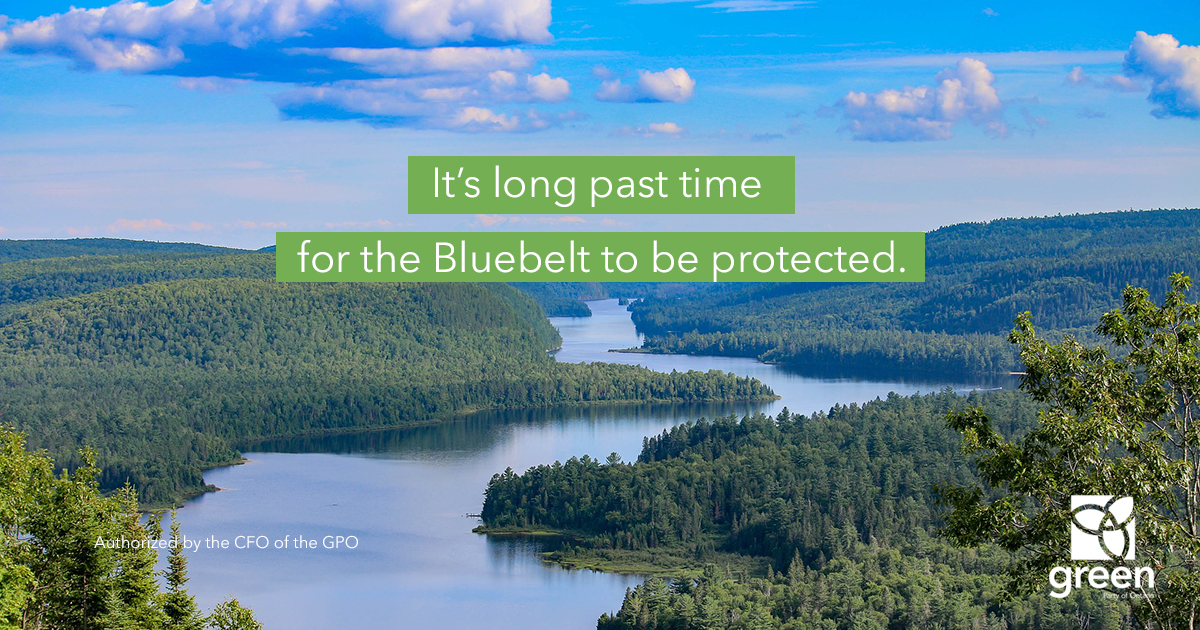 QUEEN'S PARK — The Green Party of Ontario is calling for an expansion of the Greenbelt to protect the major river systems of the Greater Golden Horseshoe, known as the Bluebelt, including the Grand River watershed and Simcoe Country river systems left out of the government's study area.
The Bluebelt is an essential source of drinking water for over 9 million Ontarians who live in the Greater Golden Horseshoe.
"Government has a responsibility to protect our most vital resource. The three status quo parties need to be clear on whether or not they support Bluebelt expansion to protect our drinking water," said Green Party leader Mike Schreiner.
And it's not just about drinking water. The food and farm sector in the Greater Golden Horseshoe alone contributes $12.3 billion and 212,000 jobs to our economy. Yet, we are losing an average of 350 acres of farmland every day, the size of the city of Toronto every year.
The Conservatives have been playing wedge politics, suggesting to Ontarians that they must choose between the Greenbelt and an affordable home. The Liberals meanwhile have cast themselves as defenders of the Greenbelt with a hastily announced expansion plan that includes no details – this after a public consultation process and no mention of the Greenbelt in their budget.
"Our water and farmland are more vulnerable than ever to status quo politicians whose wealthy lobbyists dictate their platform priorities. The Conservatives are untrustworthy and the Liberals are opportunistic. We deserve better," said Schreiner.
The Green Party has pressured the Liberals for years to fix our broken water taking rules that allow quarries to dig below the water table and companies like Nestle to take 3.6 million litres of water per day on expired permits. While the Liberals conduct study after study into Greenbelt expansion, urban sprawl and threats to farmland and water grow.
"Floods will only get worse if Queen's Park continues to drag its feet," said Schreiner. "Paving over river systems and prime farmland is the most reckless thing we can do in the face of climate change. It's long past time for the Bluebelt to be protected."