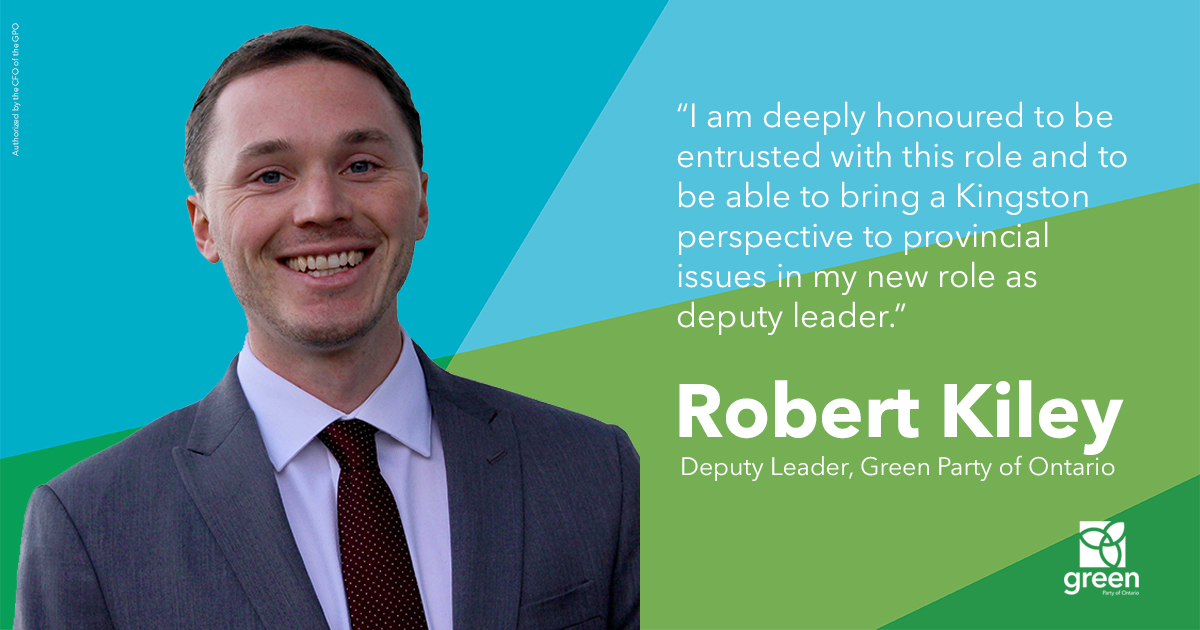 Kingston, ON – With the momentum building towards the June 7th election a dynamic new voice steps into the role of Green Party Deputy Leader.
The announcement was made following a vote by the party executive.
"We are excited to have Robert join our leadership team. He is a strong voice for Kingston and Ontario, with an excellent track record of community involvement and a passion for our shared Green vision for this great province," said Green Party Leader Mike Schreiner. "In the last provincial election, he more than doubled the Green vote in Kingston and the Islands and has built a strong team and support for his candidacy in this election. He's committed to doing politics honestly and leading change."
Robert Kiley was born and raised in Kingston and received his teaching and master's in public administration degrees from Queen's University. Until 2015, he taught English, history and outdoor education in Ontario and Quebec. He is also the former executive director of the Council on Aging. Today, Robert works in marketing, focusing on helping small businesses grow. His commitment to building community has been demonstrated through his service with a variety of community boards. 
"I am deeply honoured to be entrusted with this role and to be able to bring a Kingston perspective to provincial issues in my new role as deputy leader," Kiley said. "If the great people of Kingston and the Islands elect me as their MPP, Kingston's voice at Queen's Park will be heard and I will always put the needs of Kingston first."
Kiley is running for MPP in Kingston and the Islands on a platform of economic, environmental, social and democratic justice. Robert supports and speaks out on the need for a basic income guarantee, lowering small business payroll taxes, universal dental and pharmacare programs, investments in the green economy and a transition from expensive nuclear power to renewable energy, and electoral reform.
"Robert is a great campaigner, an excellent candidate and the right choice for those who want to do politics differently. I've seen first hand what a strong advocate he is for the issues that matter. As deputy leader he brings great energy, passion and a tireless work ethic to the race," said Schreiner.
Kiley's community work gives him a deep understanding of what matters to the people of Kingston and The Islands.  Robert has championed the adoption of key policies in the Green Party of Ontario including a living wage, improved services for transgender Ontarians and their families, importing cleaner, cheaper hydro energy from Quebec, and electrifying transit.