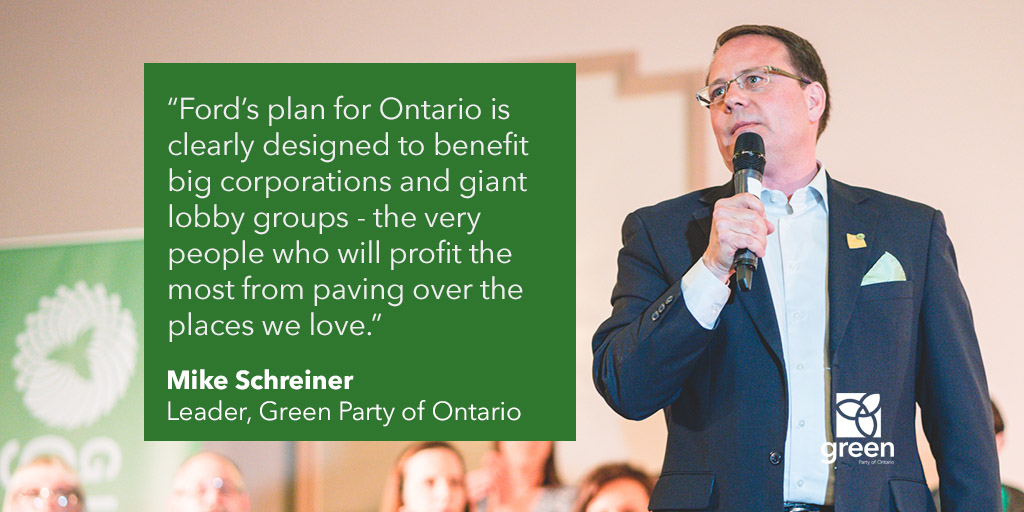 QUEEN'S PARK — Today's revelation that Doug Ford is planning to open up the globally recognized Greenbelt is wrong-headed. This is not the answer to affordable housing, but this move does show Ontarians that the PC leader will put his wealthy friends and donors before the people of Ontario.
"Doug Ford's plan to pave over the Greenbelt puts his wealthy developer friends and donors before the people of Ontario," said Green Party of Ontario Leader, Mike Schreiner. "His comments make no sense, and Ford is clearly a threat to Ontario's drinking water and farmland."
The PC leader is mistaken in assuming we need to open up our environmentally sensitive areas. The Greenbelt is not driving up housing prices. Only 20% of already available lands for development have been used.
Ford's reckless plan to destroy farmland and greenspace shows a gross misunderstanding of the immense environmental and economic value of the Greenbelt for growing food, ensuring clean water and providing habitat for wildlife – ecological services that amount to an estimated $2.6 billion per year, according to a recent study.
"Ford's plan for Ontario is clearly designed to benefit big corporations and giant lobby groups who meet with him in the back rooms – the very people who will profit the most from paving over the places we love," said Schreiner.
Ford has avoided media questions since taking leadership, but what he says when he doesn't know the camera is rolling is disturbing. In the leaked video, Ford gives credit to "some of the biggest developers in the country" for coming up with the idea to pave over the Greenbelt.
"The Green Party will fight to protect the people and places we love. We will fight for a real affordable housing plan that puts people first by requiring new developments to have 20 percent affordable homes," said Schreiner.
Learn more at www.gpo.ca/vision.