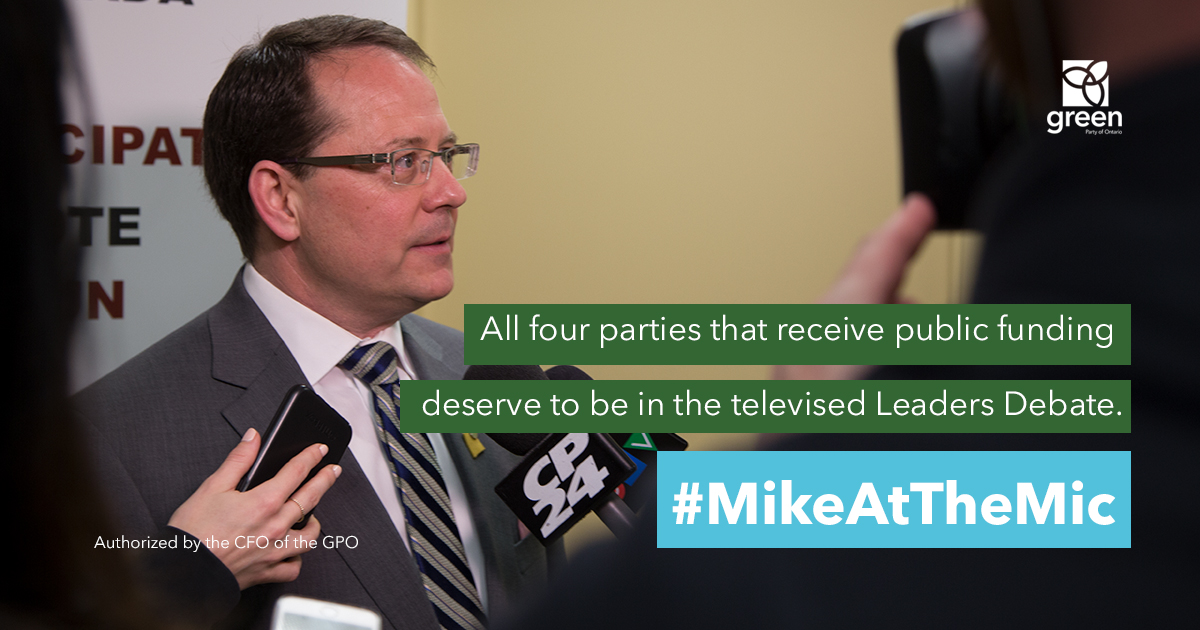 QUEEN'S PARK — Momentum is growing to get Mike Schreiner a seat at the televised leaders' debate. Today the Green Party of Ontario launches an online petition to increase pressure on the Ontario media consortium to include all four publicly funded parties, as recognized by Elections Ontario.
Ontarians can visit www.MikeAtTheMic.ca to add their name to the chorus of people demanding to hear from the Greens alongside the other three parties who qualify for per-vote funding from Elections Ontario.
"Why should something so fundamental to our democracy be left to a handful of media executives with no transparency or accountability to the people of Ontario?" said Mike Schreiner, Leader of the Green Party of Ontario.
We need more choice, not less choice, in an election that is undoubtedly about change. The decision by the Ontario Broadcasters Group flies in the face of Elections Ontario rules, but also the broad support Greens have across the province and country. A recent FairDebates.ca petition has already gathered over ten thousand signatures that crosses all party lines.
"When Greens were rightly invited to the provincial debates in British Columbia, PEI and New Brunswick, they won seats in all those elections. Shutting us out in Ontario does nothing but reinforce status-quo politics and deny voters a chance to hear fresh ideas," added Schreiner.
Since last week, Premier Kathleen Wynne and numerous media commentators and hosts have been lining up to voice their support for getting #MikeAtTheMic.
"There is no legitimate reason why the networks are doing this. I implore the networks to rethink this whole thing, including our parent company," said Bill Kelly of CHML 900, owned by Global.
"With the Federal Greens earning their seat at the leaders' debate, why are we not including the Ontario Greens at the provincial debate?" said Mike Farwell of 570 News in Kitchener.
"Sign up [and] join the campaign to get the Greens, at least a voice and a seat at the table," said Rick Gibbons of 1310 News in Ottawa.
"By any reasonable measure, the Greens are the fourth party in this province. That sets them apart from fringe parties like the Trillium Party, the Communist Party and the None of the Above party," read the editorial in yesterday's Hamilton Spectator.
Visit www.MikeAtTheMic.ca to help end the monopoly on power in the televised debates. The petition will be sent to the TV executives in each network of the Ontario Broadcasters Group.