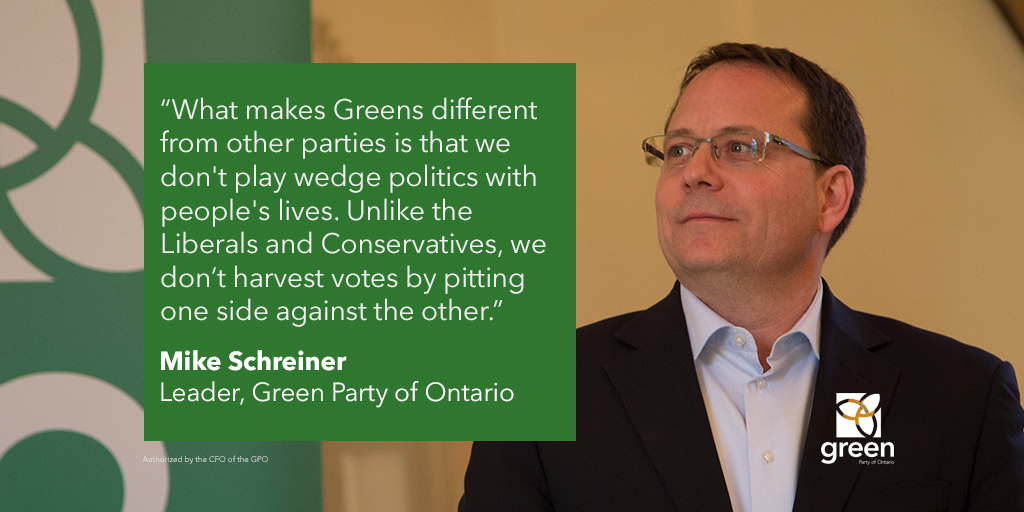 QUEEN'S PARK — Doug Ford's proclamation that he would axe the planned minimum wage increase in favour of an $800 tax credit is more 'back-of-the-napkin' policy-making.
"Ford is parading around as a populist, trying to dupe working people into believing that he represents them, when in fact his ideas will hurt the most vulnerable among us," said Green Party of Ontario Leader, Mike Schreiner.
Everyone deserves to earn a wage they can live on, and the Green Party supports the increase to $15/hour. We also understand the challenges faced by small businesses, and would therefore ease the burden with a reduction in their payroll taxes to provide immediate cash flow relief.
"What makes Greens different from other parties is that we don't play wedge politics with people's lives. Unlike the Liberals and Conservatives, we don't harvest votes by pitting one side against the other. For us, that's what doing politics differently means," said Schreiner.
The PC leader claims his tax plans will put more money in the pocket of low-wage earners, but this is not supported by statistics from the Canada Revenue Agency, nor independent analysis from the Canadian Centre for Policy Alternatives, which shows that the minimum wage hike is significantly more beneficial than a tax cut.
Ford is on a mission to cut services, slash taxes, loosen regulations, and do whatever he can to benefit big business in Ontario. He thinks he can trick low and middle-class Ontarians into thinking they'll benefit from these rollbacks, when in reality it is the wealthiest among us who stand to cash in.
"His positions are not backed by evidence, and we've seen this on many fronts, from ending carbon pricing to revisiting the sex-ed curriculum. He is trying to translate the anger towards Wynne's Liberals into votes for his fact-free ideas," said Schreiner.
But the people of Ontario don't need to choose between establishment parties that seek to divide us. The Green Party is offering a hopeful and honest vision for the province, anchored by solutions that put people and planet first. Learn more at www.gpo.ca/vision.