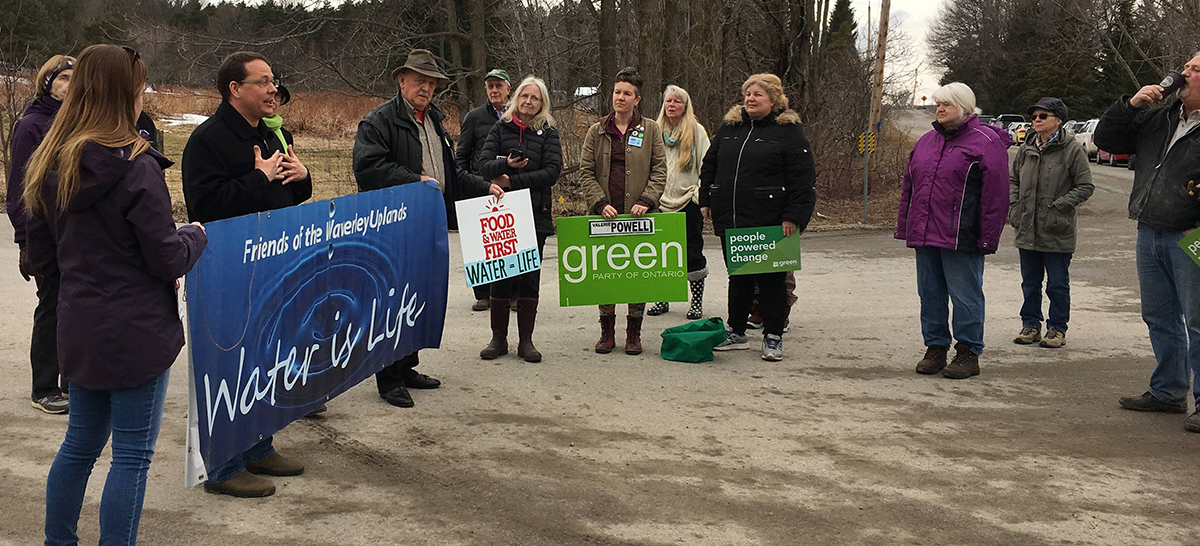 TINY TOWNSHIP, ON — GPO leader Mike Schreiner visited the site of a controversial quarry project in Tiny Township today. Indigenous and community groups are fighting the renewal application from Dufferin Aggregates that would give them a 10-year extension of their license at the Teedon Pit. ​
"The Ontario government is failing to protect our water. This is unacceptable. I am honoured to be standing alongside water protectors like the Anishinabe Kwewag and Friends of the Waverly Uplands. We must defend our most precious natural resource," said Schreiner.
Scientists who have tested the water have found it to be some of cleanest ever documented in the world. Local groups have organized before to protect it, mounting successful community opposition in 2011 to stop a controversial landfill proposal known as Dumpsite 41 that threatened the aquifer. Supporting community efforts to stop Dumpsite 41 was one of Schreiner's first efforts as GPO leader.
"Greens are not against resource development, but it must be safe and responsible. When it threatens our water resources, that's where we draw the line," said Valerie Powell, Green Party candidate for Simcoe North.
Greens have successfully spoken out against proposals such as the Melancthon mega quarry in the past. Ontario has some of the weakest rules protecting farmland and water from aggregate extraction.
"We have a responsibility to manage water for future generations, but the current government's priorities are backwards. When it comes to choosing between industry and people, the Liberals prioritize big industry," said Schreiner.​
Indigenous leaders and community groups will be gathering tomorrow at the Teedon Pit to raise awareness about their fight. Support water protection in Waverly Uplands by signing the petition: https://www.change.org/p/ontario-ministry-of-the-environment-and-climate-change-protect-the-aquifer-that-holds-the-cleanest-water-in-the-world