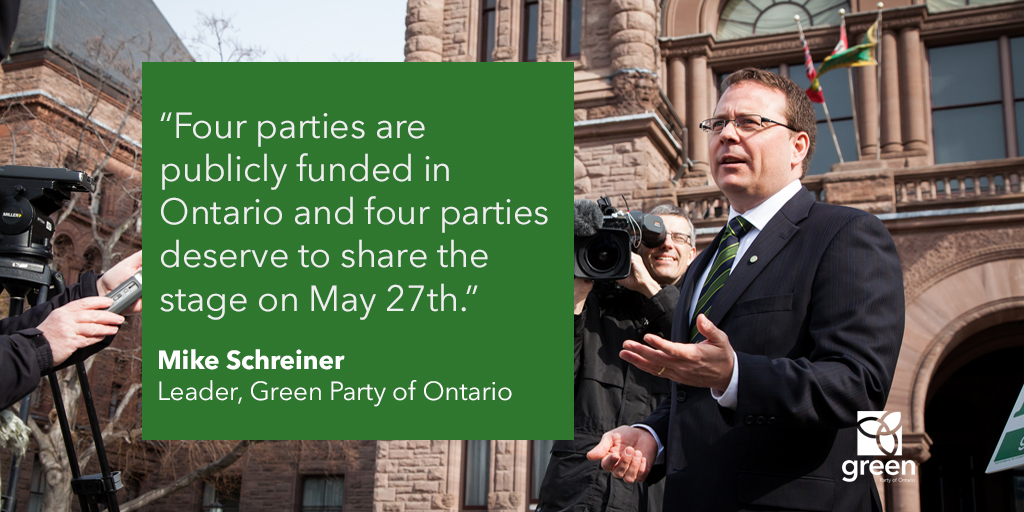 QUEEN'S PARK — The unelected, unaccountable Ontario Broadcasters Group has today shut the Green Party of Ontario out of the televised Leaders debate, set for May 27. The move comes on the heels of Premier Kathleen Wynne's endorsement earlier in the day for Mike Schreiner to be included.
"This is a slap in the face to the people of Ontario and the democratic process," said Schreiner. "The media group behind the televised debate should be following the same threshold that Elections Ontario uses for per vote funding. It's time to fix these undemocratic rules for deciding who's in and who's out."
The Green Party is one of four parties to qualify for provincial per-vote funding, based on the Party's popular vote in the last election.
The media consortium behind the decision is a group of TV managers from CBC, CHCH, CPAC, CTV, Global News, and TVO. They are not accountable to the citizens of Ontario and in this case have used an arbitrary set of criteria, announced only today, to exclude the Green Party of Ontario.
A petition created by the nonpartisan group Fairdebates.ca has collected nearly 10,000 signatures to date. The Green Party is calling on citizens of all political stripes to join the growing chorus of people pressuring the media group to hold a fair and democratic debate.
"The formula for leaders debates should not be one that reinforces status-quo politics. To keep me out of the debate is to censor the solutions that our party deserves to share with Ontarians, and that Ontarians have a right to hear," added Schreiner.
"I am urging my fellow party leaders Andrea Horwath and Doug Ford to step up and demand that I be included in the televised debate. Four parties are publicly funded in Ontario and four parties deserve to share the stage on May 27th," said Schreiner.
If you agree that Mike Schreiner and the Greens should have a seat at the debate, sign the petition at www.fairdebates.ca.