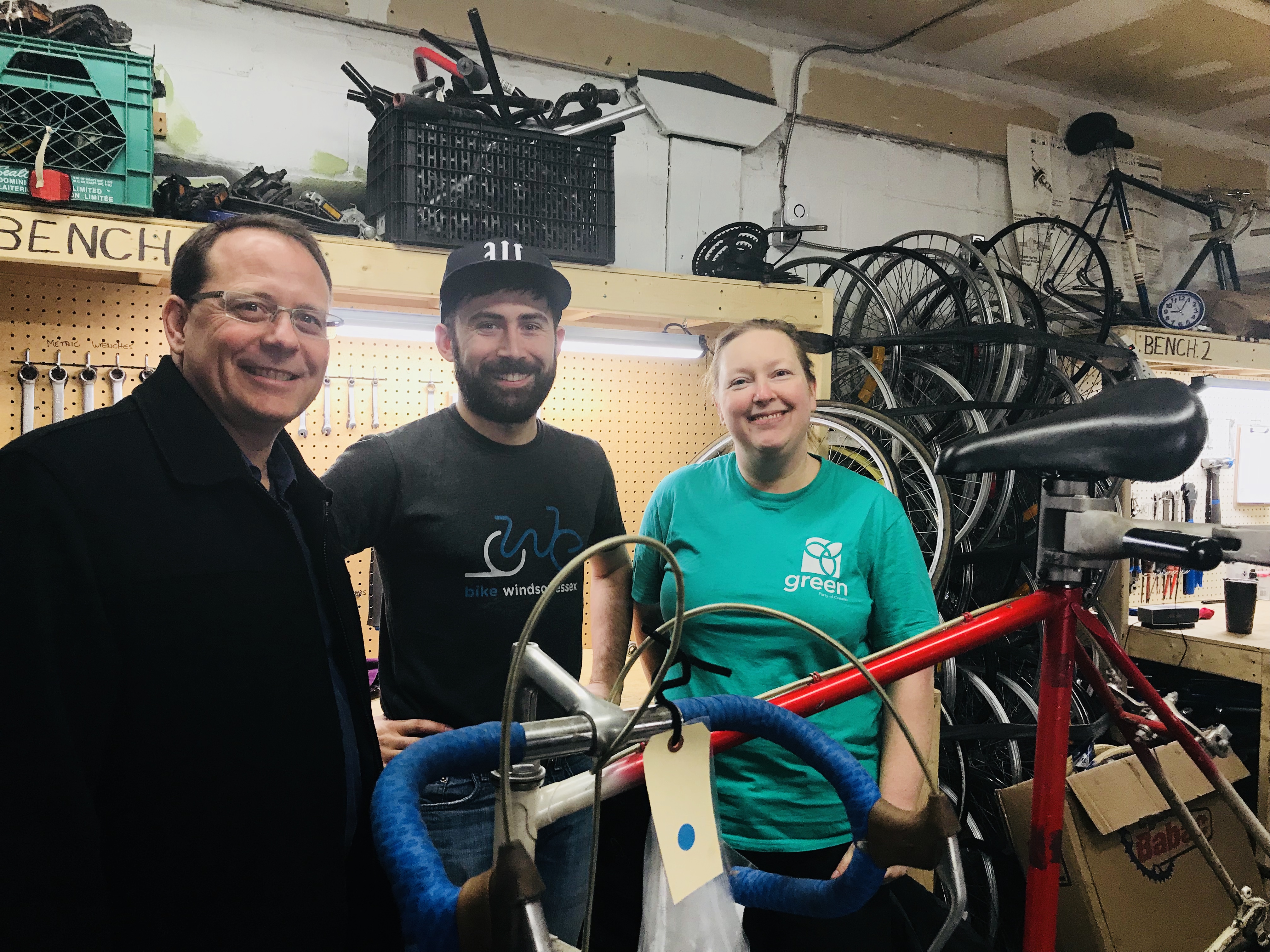 The Green Vision Tour is a 20-city tour of the province to share the Green Party's Green Vision for Ontario, the party's blueprint for People Powered Change, focusing on Jobs, People, and Planet.
Day Two of the Green Vision Tour started in Windsor, where Mike Schreiner and the GPO team toured Bike Windsor Essex, a member-based advocacy group representing all bike lovers in Windsor and Essex County, to help make the region safer and more bike friendly. Following that event, Mike gave a speech at the University of Windsor's Sustainable Food Systems and the Environment class.
In the afternoon, Mike and the GPO team headed to Chatham, where they were treated to lunch at a local restaurant. They then went on to Kitchener, where Mike met with local community leaders in social innovation and environmental sustainability to get an understanding of the issues they face locally. The day ended with a Meet and Greet at a local pub in Waterloo.
Read more:
Highlights:
Day 2 of the 20 stop cross province Green Vision tour of Ontario. Windsor next @CBCWindsor @MikeSchreiner @OntarioGreens #onpoli pic.twitter.com/qwFEZMXemG

— ralph benmergui (@ralphbenmergui) March 22, 2018
The Green Vision tour has landed in Windsor! First up: @MikeSchreiner talks with @TheWindsorStar about green jobs and the cleantech economy. #peoplepoweredchange #everyvotecounts #onpoli pic.twitter.com/G3aYc4Sg7m

— Green Party Ontario (@OntarioGreens) March 22, 2018
We loved speaking with @webikefriendly about dedicated funding for cycling infrastructure, alongside Windsor West candidate @Krystagr. Greens support a transportation strategy based on moving people, not just cars! #letsmakehistory #onpoli #peoplepoweredchange pic.twitter.com/Cwo8LoQs64

— Green Party Ontario (@OntarioGreens) March 22, 2018
Day two, four cities visited, 16 to go. Thanks to Williams Street Cafe in Chatham for the delicious lunch. #greenvisiontour #peoplepoweredchange pic.twitter.com/2jTSxibnGe

— Mike Schreiner (@MikeSchreiner) March 22, 2018
Great chat yesterday with @MikeSchreiner, leader of the @OntarioGreens – thanks Mike for stopping in #ckont and taking the time to learn about our community! pic.twitter.com/hM7RXdQKj2

— Brock McGregor (@brockmcgregor) March 23, 2018
We need to properly fund higher education with public subsidies. @MikeSchreiner was pleased to talk jobs, tuition and student loans with @The30News on @UWindsor campus today! #peoplepoweredchange #everyvotecounts pic.twitter.com/Wa0iHGJ6jD

— Green Party Ontario (@OntarioGreens) March 22, 2018
Leader @OntarioGreens @MikeSchreiner hosts a community roundtable to listen to local leaders, and speaks about preventative health and supporting start-ups pic.twitter.com/KXgAmbOuPJ

— Dave Jaworsky (@DaveJaworsky) March 22, 2018
Packed room this afternoon at the #WRGreens event with @MikeSchreiner and local leaders. #letsmakehistory #gpo2018 pic.twitter.com/QLOqRVOTi6

— Zdravko Gunjevic (@zdravko_g) March 22, 2018