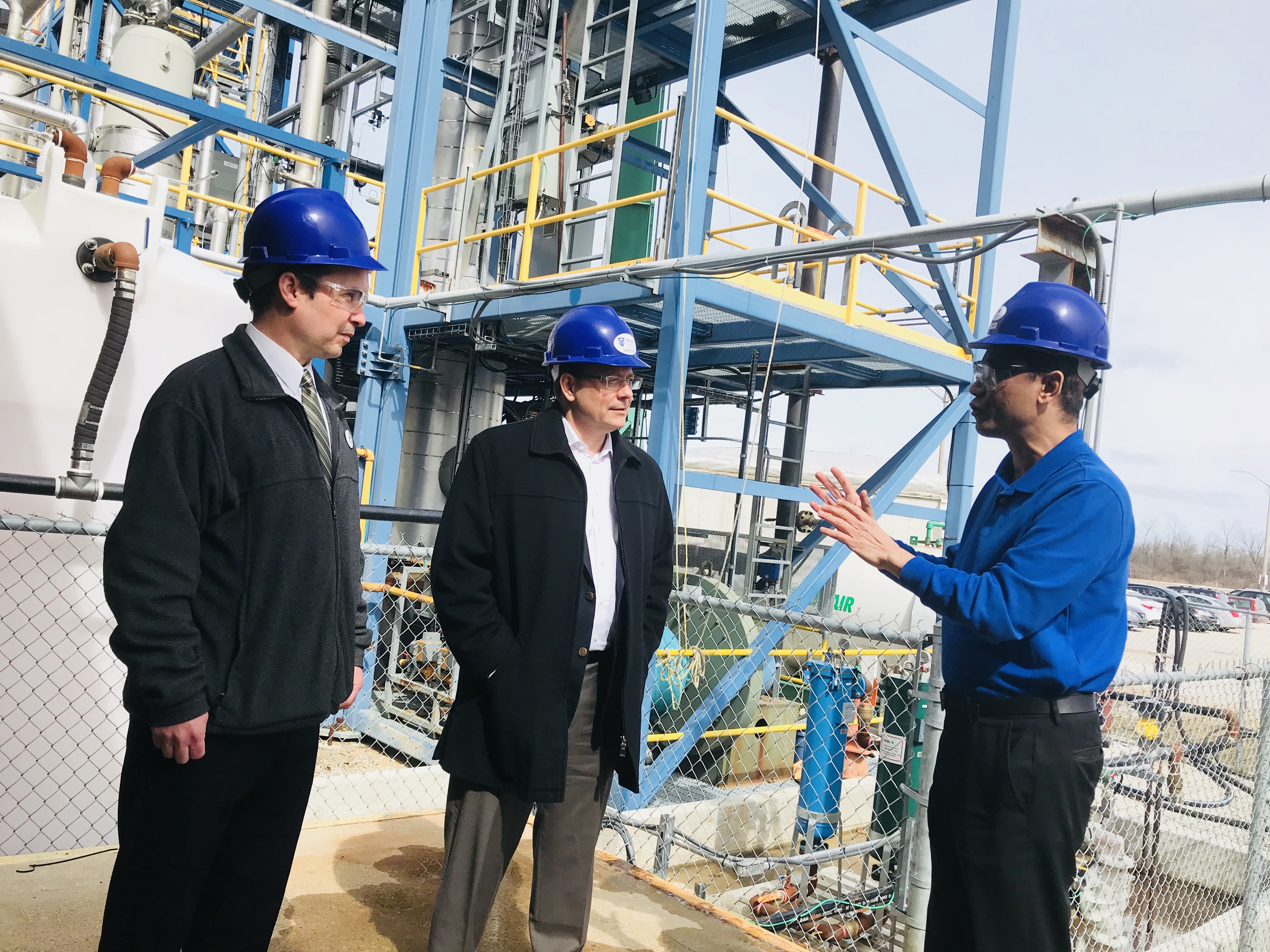 The Green Vision Tour is a 20-city tour of the province to share the Green Party's Green Vision for Ontario, the party's blueprint for People Powered Change, focusing on Jobs, People, and Planet.
Day One of the Green Vision Tour kicked off in London, Ontario where Mike Schreiner visited Innovation Works, the only co-working space in London intentionally designed for social innovators, and Growing Chefs Ontario, a registered charity based in London that unites chefs, growers, educators and community members in children's food education projects.
In the afternoon, Mike and the GPO team headed to Sarnia, where he toured Western Research Park, where Cleantech economy is coming to life in Sarnia-Lambton. Afterwards, Mike Schreiner met with local candidates and Green supporters at Business after 5, Sarnia's Chamber of Commerce Event, followed by a Meet and Greet, to hear about the issues that are important to them for the upcoming election.
Read more:
See highlights from the day below.
LONDON
"It's time to build the green middle class and leap into the future now!" @MikeSchreiner on @LondonMorning kicking off the Green Vision Tour. #PeoplePoweredChange #LetsMakeHistory #EveryVoteCounts pic.twitter.com/ijx9dLuPXE

— Green Party Ontario (@OntarioGreens) March 21, 2018
Very inspiring to hear that people and planet are at the forefront of business here at @innoworksldn. We can be profitable AND do good. #socialinnovation #onpoli #PeoplePoweredChange #LetsMakeHistory pic.twitter.com/GbQcHZbLSB

— Green Party Ontario (@OntarioGreens) March 21, 2018
@MikeSchreiner @OntarioGreens on day 1 of a 20 stop cross province tour to launch Vision Green gpo. ca/vision in London at Innovation Works pic.twitter.com/QSIqGmW8Sw

— ralph benmergui (@ralphbenmergui) March 21, 2018
Great turnout of almost 2 dozen people for a Wednesday morning 9am tour of @InnovWrks in London. #peoplepoweredchange #letsmakehistory #greenvisiontour #onpoli pic.twitter.com/r4iMIds6mV

— Mike Schreiner (@MikeSchreiner) March 21, 2018
Thanks for the amazing meal @GrowingChefsON! Beautiful space, and mandate we can get behind – increasing food literacy in our youth. #greenvisiontour #onpoli pic.twitter.com/NNM8s6LFOE

— Mike Schreiner (@MikeSchreiner) March 21, 2018
Greens are committed to running a gender balanced slate of candidates and what incredible leaders do we have in London ready to make change at Queen's Park! @lisac_gpo @CarolDyckGPC and Pamela Reid. #EveryVoteCounts #LetsMakeHistory #onpoli pic.twitter.com/IvsHjEIFt4

— Green Party Ontario (@OntarioGreens) March 21, 2018
Green Vision Tour first stop done! Thank you London. #peoplepoweredchange#letsmakehistory#onpolipic.twitter.com/eWjACFyDon

— Mike Schreiner (@MikeSchreiner) March 21, 2018
SARNIA
The green middle class jobs of the future are happening now in Sarnia-Lambton @ResearchPark. Pivoting towards the cleantech economy here in Chemical Valley! @LambtonCollege @Kev__Shaw @MikeSchreiner @BICSarnia #LetsMakeHistory #onpoli pic.twitter.com/i4v884NiCR

— Green Party Ontario (@OntarioGreens) March 21, 2018
Thanks to @BICSarnia for showing off new economy jobs being developed by @LambtonCollege at the @ResearchPark in Sarnia. @OntarioGreens Green Vision Tour. #peoplepoweredchange pic.twitter.com/JbYJhbmluz

— Kevin Shaw (@Kev__Shaw) March 21, 2018