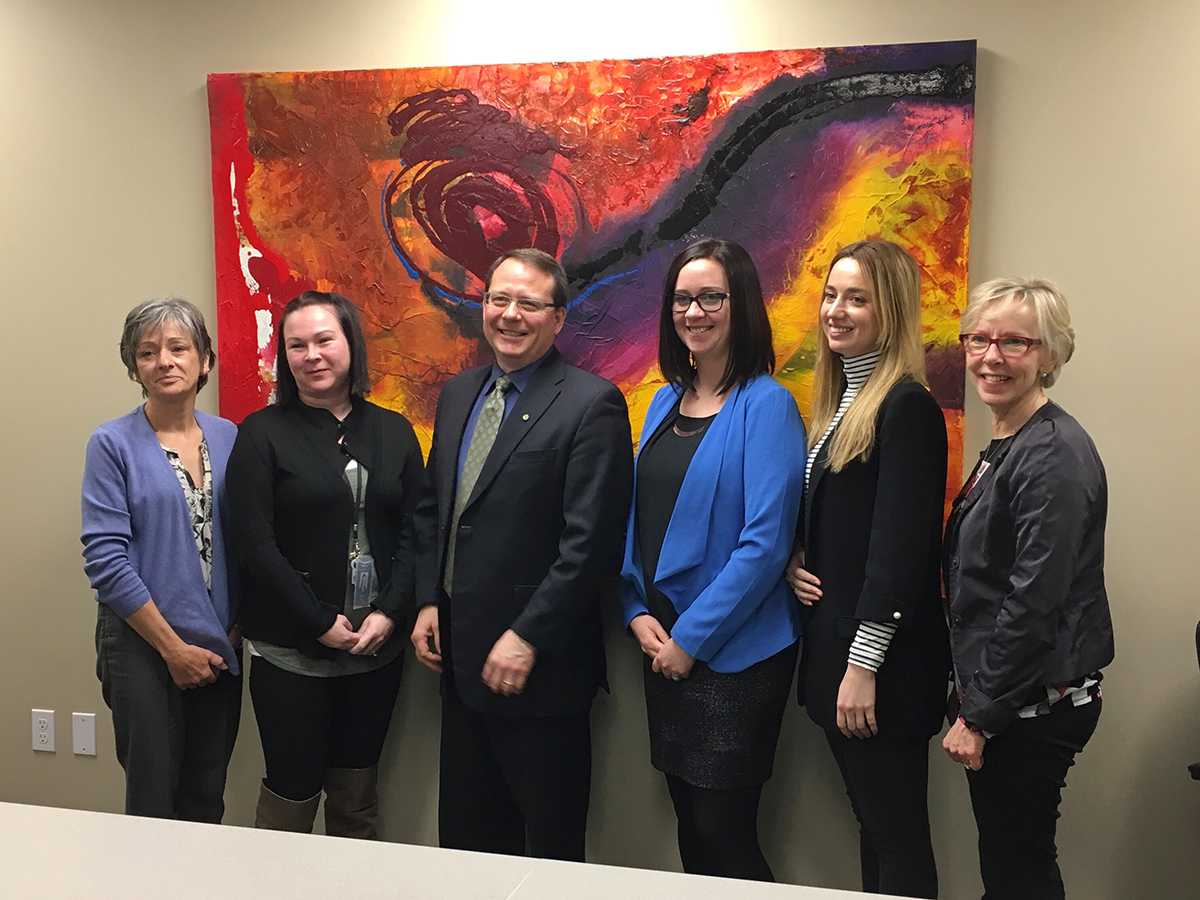 GPO Leader Mike Schreiner, Paula Carere, and team
CAMBRIDGE, ON — Today, Green Party of Ontario leader, Mike Schreiner, visited the Waterloo Region Nurse Practitioner-Led Clinic to get a first-hand look at an example of grassroots, localized health care that the province should be expanding upon. Currently there are only 27 such clinics operating in Ontario.
The visit comes on the heels of yesterday's report from Ontario's Financial Accountability Officer indicating that health care access and quality are at risk.
"The Liberal government is failing to address the real and growing gaps in our healthcare system. Integrated primary health care options like Nurse Practitioner-Led Clinics are one of the best ways to relieve the burden on hospitals, cut wait times, and ensure every Ontarian has access to the most vital service government provides," said Schreiner.
Schreiner met with clinic director, Paula Carere, and her team, to see what a Nurse Practitioner-Led Clinic looks like in action, an innovative model that is supported by the Canadian Nurses Association and the Nurse Practitioners Association of Ontario.
The Green Party of Ontario believes in publicly funded healthcare focused on real solutions that put people first. We need smarter investments that will improve the status quo and ensure illness prevention is not neglected.
"Right now we have a sick care system that kicks in once we fall ill. With more emphasis on Nurse Practitioner-Led Clinics, we can move to the kind of real relationship building that helps prevent people from getting sick in the first place. This will reduce costs for the whole system." added Schreiner.
Nurse-led clinics are an essential model for reaching people who are currently left behind, their health deteriorating as they struggle to get through the door. The Green Party of Ontario would expand the number of Nurse Practitioner-Led Clinics in all parts of the province and empower Nurse Practitioners as primary health care providers in underserved and rural areas.
"We know that primary care is best provided at the community level and not in crowded hospitals. It's time Ontario looks to Nurse Practitioner-Led Clinics, family health teams, community care centres, and Indigenous health access centres that represent the future of health and wellness now," said Schreiner.