Parry Sound-Muskoka Green candidate Matt Richter delivers an affordable housing petition to Queen's Park
News
March 5, 2018
Over 500 individuals have signed postcards to Premier Wynne and Minister Milczyn, asking that each new housing or condo development includes 20 percent of affordable units. The Government's proposal are too weak. The Green Party is asking for increased support for affordable, social and co-operative housing. Continue reading
Share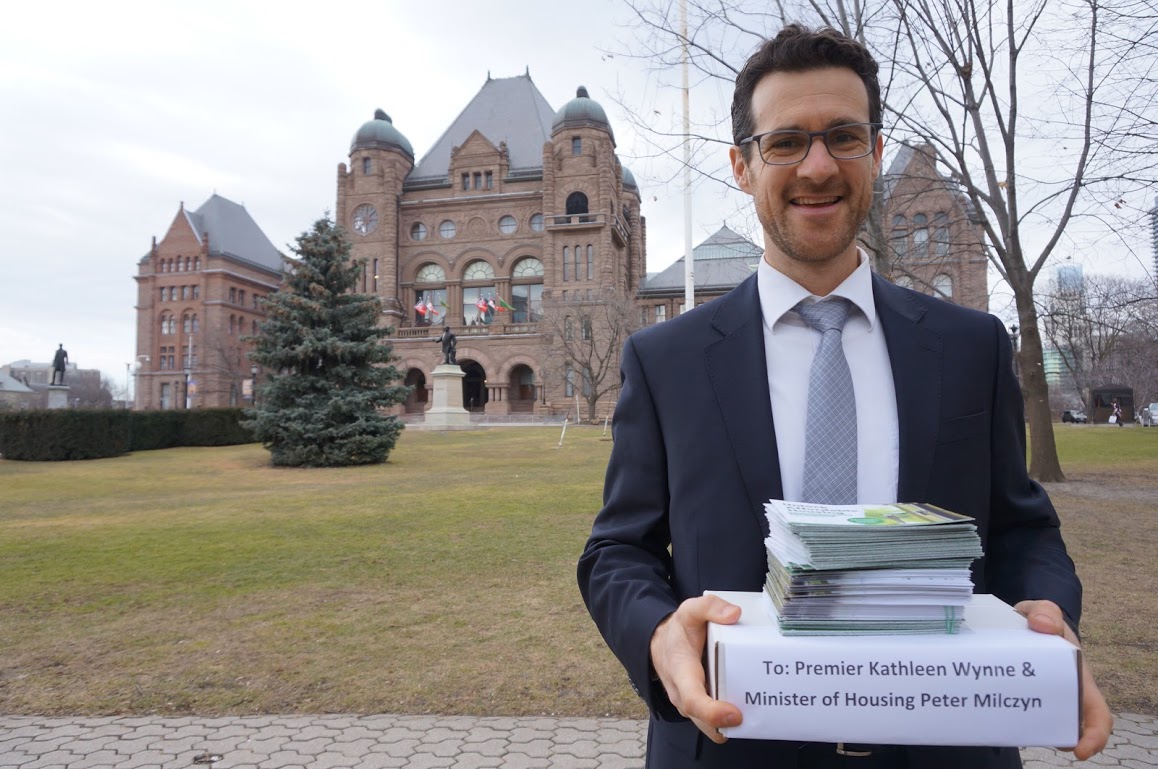 On Wednesday February 28th, Matt Richter, Parry Sound-Muskoka Green Party of Ontario candidate, delivered over 500 postcards to Premier Kathleen Wynne and Housing Minister Peter Milczyn. The postcards requested that the Ontario Government develops more sensible policies regarding affordable housing that will meet the needs of Parry Sound-Muskoka as well as across Ontario.
"After knocking on doors with volunteers across Parry Sound-Muskoka, it is apparent that the lack of affordable housing is a critical issue and that not enough is being done about it." said Richter.
Over 500 individuals have signed postcards to Premier Wynne and Minister Milczyn, asking that each new housing or condo development includes 20 percent of affordable units. The Government's proposal are too weak. The Green Party is asking for increased support for affordable, social and co-operative housing.
"It is important to note that the lack of affordable housing or affordable rental properties reaches beyond the Ministry of Housing," said Richter. "This is an issue that warrants a collaborative effort with the education, health, and economic sectors of government."
The Parry Sound-Muskoka Green Party of Ontario is extremely grateful for the volunteer work and for the progress that has been made so far in filling this urgent need.
"We must acknowledge the tremendous advocacy efforts in Parry Sound-Muskoka that our community partners, municipal politicians, and the private sector have already been doing," said Richter.
He noted that municipalities need to be allowed to offer incentives for developers to build affordable units without being on the hook to recover those costs from other reserves.
"We must remain proactive on this issue until we see responsible action from the Ontario government to deliver the resources and policies required," said Richter.
By supporting tiny homes, secondary suites, laneway housing and other innovative approaches to housing, the province will be able to add more housing opportunities for people across Ontario, thus relieving some of the deficit.
If you would like to volunteer or be a part of the Parry Sound-Muskoka Green Party regarding the affordable housing campaign, please contact Sophie Lovell, campaign manager for Matt Richter at sophielovell@gpo.ca.