Mike Schreiner responds to the conviction in the gas plants trial
News
January 19, 2018
Share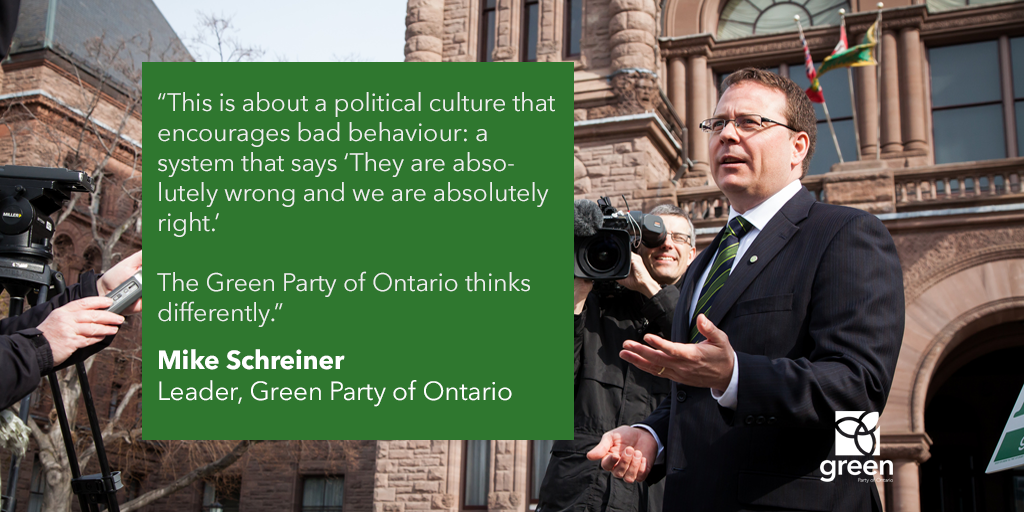 TORONTO – Mike Schreiner, GPO leader, made the following statement regarding David Livingston, Dalton McGuinty's former Chief of Staff, being found guilty of attempting to commit mischief and unauthorized use of a computer.
"This case is an example of the way politics has been done for a long time. Pursue power at all costs. Never give the other team credit, always look to take them down.
What Mr. Livingston did was unquestionably wrong. This is about a political culture that encourages bad behaviour: a system that says 'They are absolutely wrong and we are absolutely right.' The Green Party of Ontario thinks differently.
Consensus, collegiality and a desire to put the people of Ontario above partisan gamesmanship will go a long way to making our politics civil. We must embody the principles of integrity and honesty instead of what we have now.
Elizabeth May's Green example in Ottawa shows that Canadians can do politics in an open and inclusive way, instead of the toxic, take no prisoners style that sadly makes Question Period at Queen's Park an embarrassment when students arrive on a field trip only to watch our politicians jeer and heckle.
Doing politics different is possible and urgently needed so that we put people first, instead of parties, lobbyists and special interest groups. The Green Party is leading the way by how we think and act, such as leading the effort to get big money out of politics by ending corporate and union donations to political parties."