Wynne puts Liberal party ahead of citizens (again) with needless cabinet shuffle
News
January 17, 2018
"There was no need whatsoever to implement a shuffle just five months before the election. Moving eight Liberals into new cabinet posts is a waste of peoples' money." Continue reading
Share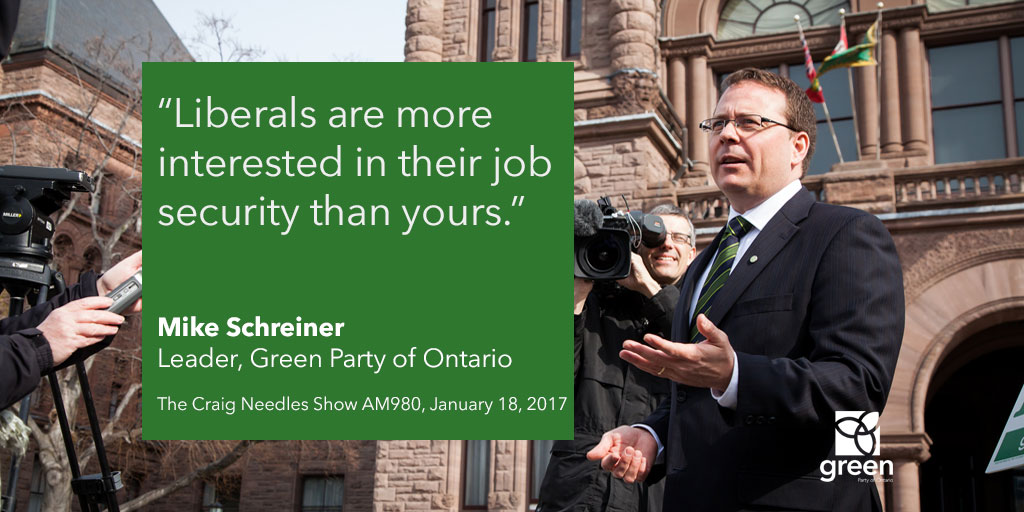 TORONTO – Green Party of Ontario Leader Mike Schreiner says it's disappointing but not surprising to see Premier Kathleen Wynne handing party loyalists a pay raise in a purely political shuffle that serves no one but the Liberals themselves.
"The only reason to replace three veteran cabinet ministers who aren't standing for re-election is to promote Liberal backbenchers to raise their profile in hopes of helping the unpopular government get re-elected," said Schreiner.
"There was no need whatsoever to implement a shuffle just five months before the election. Moving eight Liberals into new cabinet posts is a waste of peoples' money."
"Wynne knows voters are anxious for a change in government after nearly 15 years of Liberal rule, with her own personal approval rating reaching record lows in public opinion polls, and is doing everything she can to reverse the situation," said Schreiner.
"There is one and only one reason to shuffle the chairs on the Liberal ship or to prop up candidates in hopes of hanging on to power. They'll get a raise, the people of Ontario will get nothing," he added.
"It's just so obvious the Liberals are far more worried about themselves than they are about providing good government for Ontarians."
The Green Party of Ontario does politics differently, putting the needs of people and communities ahead of the needs of politicians and their well-connected friends and high-paid lobbyists.
The Green Party of Ontario puts people first.