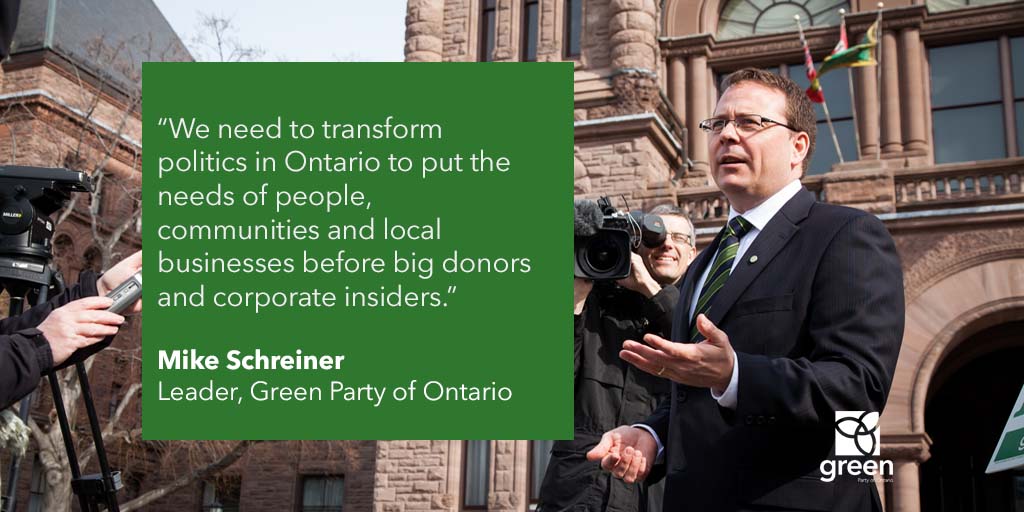 QUEEN'S PARK – The 2017 fall sitting of the Ontario legislature confirms what Ontario voters already know: Ontario cannot afford another four years of majority Liberal government.
"It's time to shake up the status quo at Queen's Park," said Green Party of Ontario Leader Mike Schreiner. "The Liberal electricity plan—now supported by the Conservatives— to buy votes by lowering electricity rates a year before the election will cost nearly $40 billion. People cannot afford these cynical political games and the higher prices they will pay after the election."
Ontario's independent legislative watch-dogs – the Auditor General and the Financial Accountability Officer – both dispute the Liberals' claims to have finally balanced the books. They say there will be years of deficits. The FAO also reports Ontario's debt will rise $75 billion 
in four years
 to a staggering $400 billion, mainly to pay for the temporary hydro rate cut.
"The Liberals decided on the most expensive temporary electricity rate cut in history," said Schreiner.  "Instead of cancelling plans to spend over $13 billion to squeeze more life out of old nuclear plants and triple electricity prices, the Liberals have bought an expensive band aid to get through next year's provincial election."
"We will pay the price for these political games," said Schreiner. "But there is a better way. At the Green Party, we are committed to standing up for people and presenting honest solutions to our energy challenges."
Under Liberal management, things only got more wasteful and expensive this year:
The Auditor General also found the government spent a record $58 million on advertising in the year ahead of the election – on self-serving ads, 30% of which she said were designed to make the government look good and that would have been rejected before the Liberals changed the rules.
Energy companies have gamed the system for hundreds of millions of dollars.
The province is not prepared for a large-scale nuclear emergency because the provincial nuclear response plan hasn't been updated since 2009.
The newly-privatized Hydro One invested in a coal-fired generating station in the U.S. and wants to introduce pre-paid hydro meters.
There are more people on the waiting list for social housing than there are social housing units.
Endangered species are under threat from development with no oversight, because protections have been gutted under the Liberal watch.
And the Liberals decided an LCBO-run monopoly would be the only legal retailer of cannabis in Ontario, with only 40 stores initially and little hope of stopping the underground market.
"We need to transform politics in Ontario to put the needs of people, communities and local businesses before big donors and corporate insiders," said Schreiner. "Ask yourself if the status quo is working for you? Ontario desperately needs better stewardship of our finances, environment and communities."