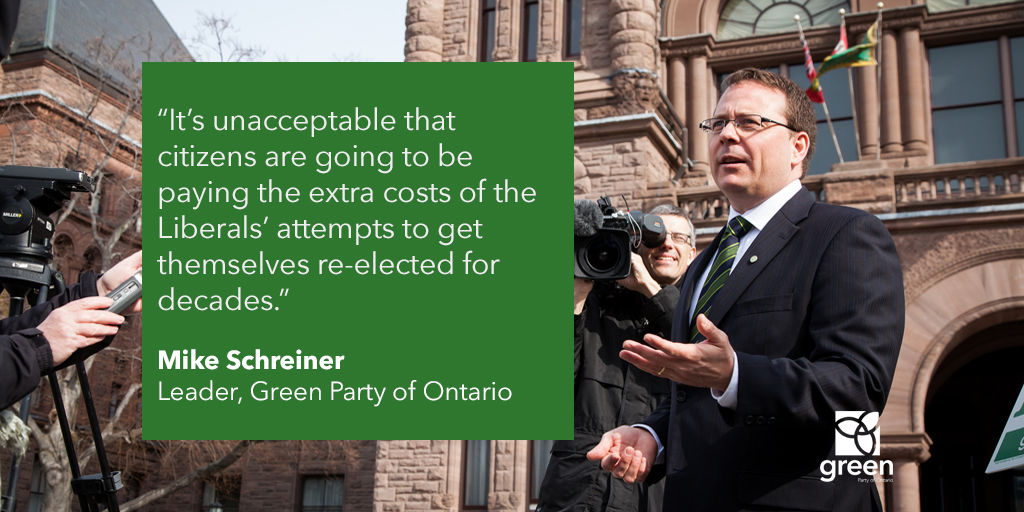 TORONTO – The Green Party of Ontario is disheartened but not surprised that the Financial Accountability Officer reports the province will have a $4 billion deficit in 2017/18, and will not have balanced books as the Liberal government claims.
"The FAO's findings show Ontario will be in a deficit position for at least the next four years and will spend more money on interest payments instead of essential public services so the Liberals can play shell games with hydro rates ahead of next year's election," said GPO Leader Mike Schreiner.
"It's a cynical ploy by a tired and desperate government. It's unacceptable that citizens are going to be paying the extra costs of the Liberals' attempts to get themselves re-elected for decades."
The FAO projects Ontario's deficit will grow to $9.8 billion by 2021/22 while borrowing for the (un)Fair Hydro Plan will help send the province's debt to a staggering $400 billion.
"Ontario already has the largest debt of any sub-national jurisdiction in the world, and the Liberals are going to make it much worse," said Schreiner. "They are a financial disaster and need a time out next June."
The FAO joins the province's Auditor General in disputing the Liberal government's accounting methods.
"The Liberals are doing their best to try and make themselves look like good fiscal managers ahead of next June's election," said Schreiner. "But the legislature's independent financial watchdogs say the government's figures just don't add up."
The GPO believes the best way to lower electricity rates is to cancel plans to spend billions to rebuild nuclear reactors that generate power Ontario doesn't need, not to borrow billions of dollars and shift costs into the future.
"The deficit, debt and debt-to-GDP ratio are all going in exactly the opposite direction that the Liberals claim," said Schreiner. "Saving $13.8 billion on nuclear rebuilds would take a lot of pressure off future hydro rates."