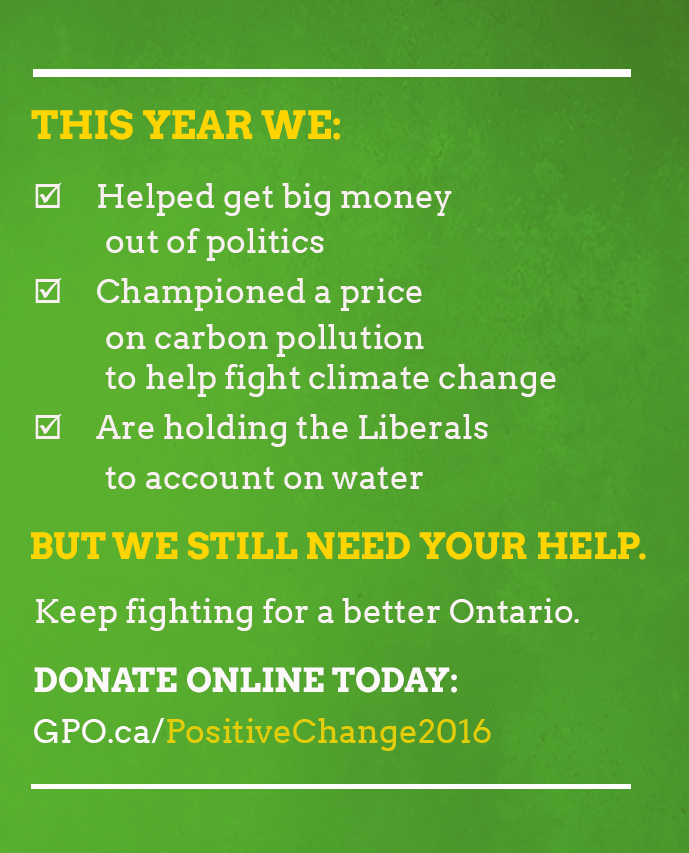 In the last year, we have achieved historic milestones – as an organization, country and planet.
With the Paris Climate Accord, for the first time, we have a global commitment to address the climate crisis. This historic agreement was followed by an announcement that Ontario would put a price on carbon pollution; now the federal government is following suit.
Climate change is on the agenda in a way it has never been before.
Thank you. This wouldn't have happened without your support for the Green movement in Ontario and in Canada. Your advocacy, your time, your money — your hard work has put the environment and climate on the agenda.
That's not all. Because of your support, our collective influence as the GPO is greater than ever before:
WE HELPED GET BIG MONEY OUT OF POLITICS
For years, we've been saying that there is no place for corporate money in politics. Finally this year, the province is moving to ban corporate and union donations to political parties.
I'm proud to say that the GPO played a key role in drafting the legislation, meeting with each of the party leaders to talk about what needed to be done. For this, the Toronto Star credited us for leading " the way with serious reform proposals before anyone else thought to do so."

WE WILL HAVE A PRICE ON CARBON TO FIGHT CLIMATE CHANGE
We pushed the government to put a price on carbon pollution. And while the Liberals did not choose our policy, I'm sincerely glad that they are putting a price on carbon pollution.
But in typical fashion, they've also picked a complex, easy to abuse system of cap-and-trade. And the Liberals exempted the biggest corporate emitters from having to pay to pollute.
We will continue to push for our policy, the simple and more effective carbon fee-and-dividend system. Our policy was acknowledged by the Toronto Sun this year as the only "plan actually designed to lower industrial greenhouse gas emissions linked to climate change."
WE'RE HOLDING THE LIBERALS ACCOUNTABLE FOR OUR WATER
Communities don't have priority access to our water over multi-national corporations like Nestle. These same corporations pay a measly $3.71 per MILLION litres of water. And they're not required to reduce their water taking in times of drought. How is this fair, just or right?
Communities and farmers should have priority for our water – a precious, non-renewable resource. We've been holding the Liberal's feet to the fire on this, sending over 2000 emails and postcards to the Minister so far. We will not stop until our water is protected.
WE HAVE MADE PROGRESS, BUT WE NEED YOUR SUPPORT MORE THAN EVER.
Events beyond our borders have left a lot of question marks about what happens next. Like you, I'm deeply worried about what this means for climate action and the gains we've made with renewables.
That's why we need your help. Your gift of today will help us continue to advocate and create the change you want to see in Ontario. Your gift will go towards our 2018 campaign fund: helping us build and promote our comprehensive GPO platform and fuel a powerful far-reaching campaign.
To donate, simply visit www.gpo.ca/donate or mail in the attached form – it will only take 5 minutes of your time, but it will go a long way in continuing our fight for a better Ontario.
I don't have all the answers, but I do have renewed determination to build bridges and open doors for change to move us forward, not backwards. We need to keep pushing, mobilizing and advocating for positive change.

Sincerely,
Mike Schreiner
P.S. Thank you again for all that you do to make this province a better place. We have come so far, but it's clear that our work is not done. Governments change — sometimes in ways that put climate commitments in jeopardy. Please donate today. Every dollar counts.