The Guelph community came out in full force for our office opening on Saturday night. I was truly inspired by all
the positive energy in the room and the enthusiasm for our city. Thank you.
I also want to thank those visitors who travelled in from out of town. I am so glad you were able to make the trip. I hope you had as much fun as I did.

As we move forward, I hope we can continue to use this new space as a community hub, a place where we can come together to find the best solutions as a community. And a place to take action on those solutions — knocking on doors, engaging our neighbours to join us, brainstorming, and gathering community input.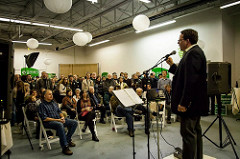 I deeply appreciate the folks who donated money to help fund our efforts. Your contribution makes a big difference. I found listening to your reasons for contributing to be particularly gratifying.

I'm also very touched by the people who stepped forward to volunteer. Three people pledged 200 hours of volunteer work. That's a lot for any one person. Thank you.

If you can commit even 10 hours of time to our team, let us know by sending an email to volunteer@mikeschreiner.ca. Together we can make history by changing the political status quo.

The event would not have been possible without our volunteers, and the local businesses who donated food,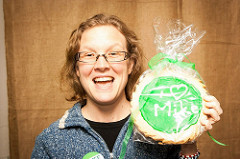 beverages, and other supplies. And it was definitely made more lively thanks to Trevor Hall's folk-rock on guitar. For all those who attended, and for those who could not make it, please stop by 34 Gordon Street anytime. You'll see the sign as you come down the road!