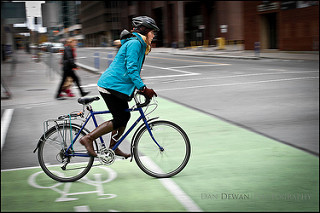 When the weather is good, my daughter and I cycle every day – to school, the grocery store, and sometimes just for fun. Now that she is old enough to bike we have the freedom to get to more places and have fun while we do it.
I wish we could bike even more, but sometimes I say no because some roads are not safe enough, or there are missing links between neighbourhoods.
That's why I'm asking you to lend a hand.
Finally, after years of delay, the government is putting together an updated Cycling Strategy and they want to hear from you.
The draft cycling plan is a start, but it lacks ambition and concrete goals. I need your help to make sure Ontario's cycling future is a good one.
You can help shape the future of cycling in Ontario by sending a comment on the Cycling Strategy to the Ministry of Transportation by January 29th.
The advantages of improved cycling infrastructure are huge – reducing congestion, improving fitness, and creating great neighbourhoods to live in. Providing safe infrastructure for cycling will help contain ballooning health-care costs, improve the liveability of our neighbourhoods, and save money.
Click here to tell the Ministry of Transportation about your priorities for cycling in Ontario. The deadline for comments is January 29th. We've provided a sample comment to get you started.
Thanks for making a difference. Every comment counts!
PS: Update your Facebook cover photo to help spread the word! Download: cycling-action-cover-photo.png