For more information, please contact
John Chenery
About Mike
Mike Schreiner, Leader of the Green Party of Ontario and MPP for Guelph, is the first Green MPP elected to the Ontario Legislature in 2018.
Mike Schreiner calls for new approach to tackle housing and climate crises
August 23, 2022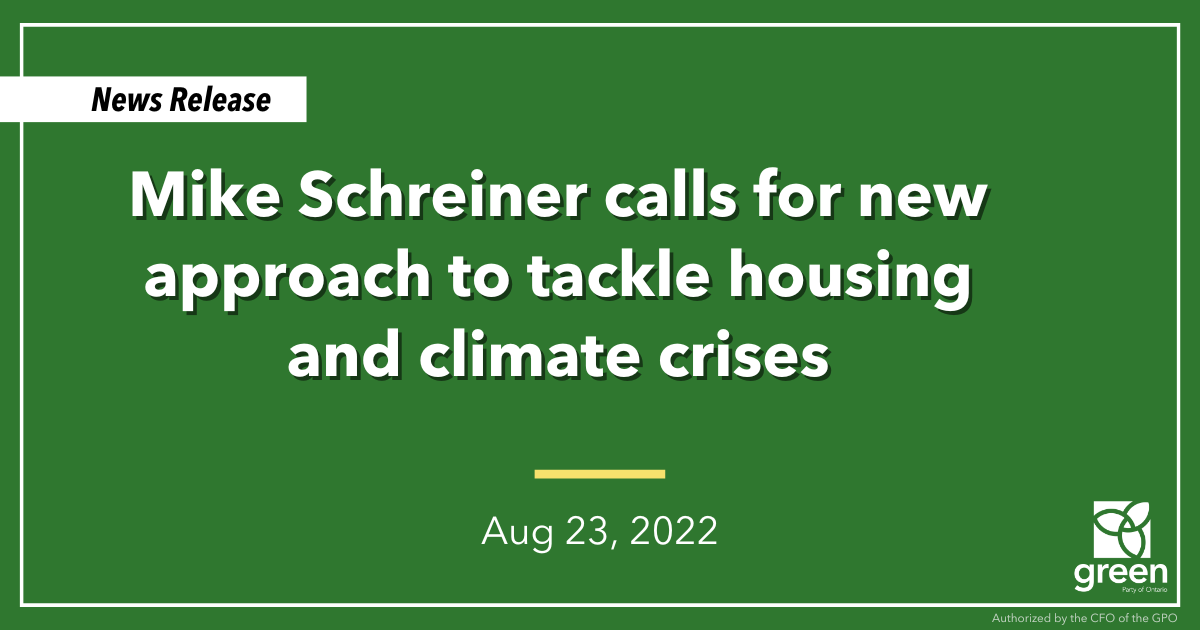 TORONTO — Ontario Greens Leader Mike Schreiner has tabled a motion in the House calling on the Ford government to implement complementary policies to address the housing and climate crisis.
"The Ford government's pro-sprawl, anti-climate policies are not sustainable or affordable," said Schreiner.
"We need a new approach that tackles the housing crisis and the climate crisis at the same time."
The lack of affordable housing is pushing Ontarians further and further away to find an affordable place to call home. That means longer commutes, more cars on the road, and more climate pollution.
"Transportation is the biggest source of climate pollution in Ontario," Schreiner said, "and a big portion of that comes from cars commuting back and forth pumping pollution into the air.
"The Ford government's response is a plan to build billion-dollar highways to million dollar homes that people cannot afford. This pro-sprawl agenda is paving over the farmland that feeds us and the natural habitat that protects us."
"It's a recipe for long, miserable commutes and people disconnected from their communities," said Schreiner. "We need to build communities where Ontarians can live within 15 minutes of their workplace, essential services and recreation."
In a legislative motion tabled in the House today, Schreiner calls on the government to immediately address the climate and housing crisis through complementary policies including:
Freezing urban boundaries
Updating provincial planning laws to increase density along transit corridors and avenues, including affordable midrise and missing middle housing
Ending exclusionary zoning by allowing fourplexes in neighbourhoods as of right.
"I"m ready to work across party lines with the government to increase housing supply while protecting the land that feeds us," said Schreiner. "Ontarians should not fall for Doug Ford's bait-and-switch 'Strong Mayors Building Homes Act', which will damage municipal democracy while doing nothing about housing affordability."
"The province has tools to build more housing. It's time to start using them."
Media contact:
John Chenery
johnchenery@gpo.ca
647-213-2060
-30-