For more information, please contact
Cecilia Stuart
Schreiner announces Ontario Greens' Water Protection Plan for a livable & climate-ready future
May 19, 2022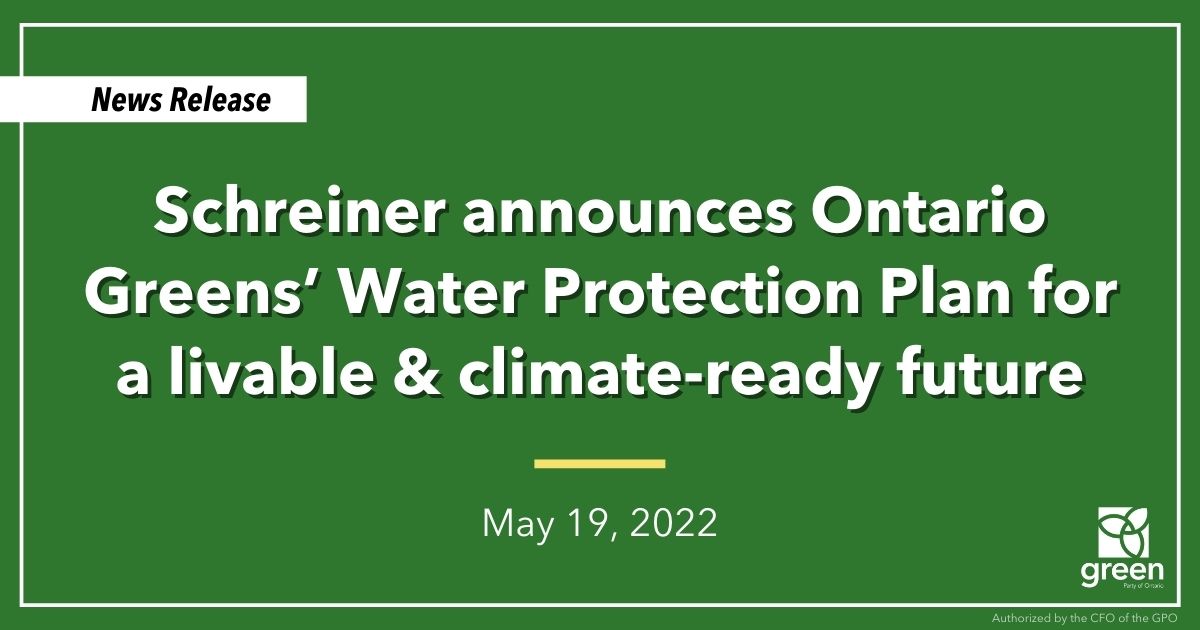 WELLINGTON — HALTON HILLS- Today, Leader Mike Schreiner announced the Ontario Greens' Water Protection Plan for a livable and climate-ready future. Schreiner was joined virtually by local candidate for Wellington Halton-Hills Ryan Kahro.
"Doug Ford wants to pave over your children's future," Schreiner said. "His reckless anti-environmental agenda has to stop."
Doug Ford has declared war on water and nature. He's loosened regulations on destructive gravel mining, is trying to run highways through the Greenbelt, and pushes his sprawl agenda at all costs.
"Ontario Greens will build a livable future for you and your children," Schreiner stated. "A future with clean air to breathe, and clean water to drink." We are in a climate emergency, yet Ontario Greens are notably the only party focusing on the issue this election campaign.
Under the Water Protection Plan, Ontario Greens will:
Implement an immediate moratorium on all new and expanded gravel mining permits to protect water
Double the size of the Greenbelt to include a Bluebelt of protected waterways
Set required minimum use of recycled aggregates in infrastructure projects as well as providing research and education funding to ensure that all reclaimed concrete material can be re-engineered and re-used as effectively as possible, to reduce the need for new gravel mines that pollute water
As the climate emergency worsens, it's vital that we protect water before the situation becomes more costly and expensive– both to our health and our wallets.
"Nothing is more important than protecting the long-term supply of our drinking water, and yet Ontario's weak aggregate and water-taking rules continue to put private profits first," Schreiner said."
"Ontario Greens are committed to building the healthy and livable future you want. And we have the leadership to deliver on it."
-30-